Name: Camila Dehoyos
From: San Diego, California
Grade: 10
School: Westview High School
Votes: 0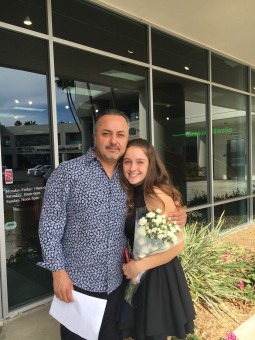 Dribble. Pass. Score. I whispered those three things in her ear and I knew she had the power
to execute. Her name is Abby. She loves soccer, colorful headbands
and had just scored her first goal. I watched as her smile radiated
throughout the field. Proud, I stood on the sidelines cheering long
and hard. For her and I both, regardless of it being an ordinary
play, it meant the world. The hours of dribbling consisted of
constantly running up and down the field. No matter how frustrated
she became, I wouldn't let her quit, I even ran with her when I
felt she was ready to give up. Her skill set improved from stumbling
over the ball to successfully keeping it close by. The hours of
passing meant learning to not be selfish and working with other
players. At first she kicked the ball too far or too short or in the
wrong direction, but we trained learning to control it. When she
became frustrated and would scream out, I calmed her down and we
would get right back to work. The hours of scoring meant taking 100
shots in a day and figuring out how to look for an opening between
the goalie and her. She missed a lot of goals at first whether I
stopped the ball or she missed it all together. I could see how
disappointed she was getting but I continued to push knowing her
potential. All the hard work paid off in scoring the goal, but it
wasn't about that picture perfect moment. This goal gave her the
opportunity to feel a sense of belonging and pretend that her
condition wasn't an issue. She is fourteen years old and has autism
but that never stopped her from coming out to play. She embodies the
community through her character, the desire to want to fit in and
feel like she is completely normal. In any little way I could've
helped to make life just a little better for her, I was honored to be
apart of it.