Name: Kendra Sanner
From: Akron, Ohio
Grade: 10th
School: Springfield High School
Votes: 0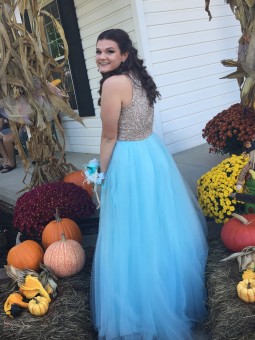 Truly
Good Neighbors
The
first thing I noticed when I walked into Good Neighbors was the
people. Warm faces, kind eyes, and their playful banter. As a junior
in high school, I joined the National Honor Society and needed to get
volunteer hours. I mentioned this to my grandma, and she pointed me
towards an organization called "Good Neighbors" who could use
some extra hands. The area of volunteer for this organization
includes giving food and items to the less fortunate. I wanted to
help people who were struggling.
I
started volunteering here last summer, and I volunteered for four
hours every Monday for four weeks. As a volunteer, I would do
whatever the adults needed me to do. Our main area that we covered
was food, so I would split up and package food before the people
arrived. We filled bags with food and extra items based on how many
people they had in their household and distributed them.
The
biggest challenge I encountered while volunteering was realizing that
so many people need help. Watching the people come in with defeated
looks, asking if we had birthday cakes for their children, made
volunteering there hard. I always wanted to give them so much more
than I could. The look on the faces of those who received our help
made it all worth it. This has given me the most satisfaction as a
volunteer. Seeing their eyes light up when we did have that special
cake, hearing how thankful they were for our help. I encountered so
many wonderful people there and knowing that I helped to make a
difference in their lives warmed my heart.
I've
learned countless lessons from my volunteering position. To give
people help when possible and to be thankful for what you have. I've
learned that we're all just trying to get by and we have the moral
obligation to help those who are less fortunate. In terms of my
future, I see these activities as "forward looking" with the idea
that in the future, people will undoubtedly need more help. Times are
tough, and they might get worse before they get better. Forward
looking, to me, means looking to the future and knowing it will one
day get better.
I
seek to help others in the world by volunteering. I want to provide
help by giving them groceries, encouraging them, and inspiring them
to keep fighting. There are people out there who care for others, and
I want more people to realize this. We have to band together to fight
poverty and homelessness in our growing world. If I came back in
thirty years, I do think my volunteering will have made a difference.
Seeing the relief in my fellow volunteers eyes whenever my friend and
I would show up is proof that I have made a difference. Volunteering
and watching as those in need thanked us is enough for me to know
that I can, and have, made a difference.