Name: Jamison Friauf
From: Saratoga Springs, NY
Grade: 10
School: Saratoga Springs High School
Votes: 0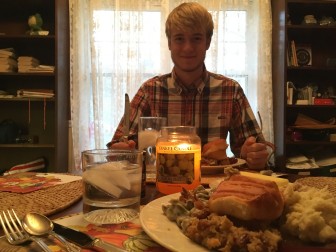 On a volunteer trip to Bugembe, Uganda, my peers and I conducted many
student physicals. After scribing for Dr Manny for a couple days, recording basic medical information on
sheets of paper, I noticed that these papers were used to make
diagnoses and prescribe medicine, but were then tossed away. We were
recording data about the children of this village, but not saving it.
These children were going to continue to beseen
by a doctor, without ever trulyhaving
one.
            What if I built a database? I didn't know where to start, but I wanted
to improve this system, even though databases would be new to me. I
met with Dr. Manny and proposed my idea. He was enthusiastic about
it, and explained that for him to provide long term medical care to
these kids he needs to see diagnoses they've had, medications
they've been given, and their growth charts. With these
functionalities, he can increase examination efficiency, allowing us
to see more students. Even from the US, doctors will be able to
advise the clinic about specific patients. And, they can
differentiate recurring problems from single cases, which require
different treatments.
While interning at a software company, two database administrators helped
me lay out the database structure, and got me started in the right
direction. I am currently in the development stage, and am on track
to complete the database in December. In February, when I return to
Uganda with Dr. Manny, we will implement it with the medical clinic.
             I hope that the work I'm doing will improve healthcare in Bugembe,
which is a wonderful thing. But I've gleaned something important
about myself from this project too. Many high school students think
of their education separate from the rest of their life. I don't
think it has to be that way. In math and physics, I take the time to
figure out why I'm using a formula instead of just which equation
to use. When writing computer programs, I don't stop after they
meet the requirements. If there's a more efficient algorithm I
could use, or a more user-friendly design, I build it. Figuring out a
problem or finding a better way to do something is immensely
rewarding for me. Simply getting good grades is not what drives me.
Knowledge and the opportunities it presents are what I thrive on.
Helping this Ugandan community doesn't feel like an assignment,
it's a passion I want to pursue.
Curiosity and an eagerness to learn have fueled me throughout this project, and
in return it has clarified for me my motivations. As I grow, I want
to take advantage of every opportunity to learn and experience new
things. I strive to be more perceptive, open-minded, and impactful.
If I can achieve this, then I can be someone who makes a positive
difference in the world, and leave it with a few more smiles than it
started with.