Name: Cassandra Hubler
From: Boise, ID
Grade: 10th grade
School: Centennial High School
Votes: 0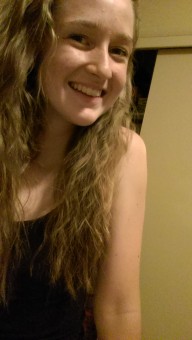 Cassandra
Hubler
Unceasing
Support

When I was nine
years old, I was diagnosed with scoliosis. This meant that my spine
was curved and I had to wear a back brace for five years. It was a
tough five years. One of the hardest parts was that I didn't have
anyone to talk to who understood what I was going through. Around the
time I finished wearing my brace, I found an organization called
Curvy Girls Scoliosis. Girls around the world led scoliosis support
groups. I knew I wanted to get involved. Since there wasn't a group
in Idaho where I live, I worked with the organizer of Curvy Girls to
become a leader. I wanted to pass on knowledge and support to other
girls who had scoliosis. Now, I lead scoliosis support group meetings
each month for girls in my area. Each meeting is an hour long, but I
also spend time emailing people about meetings, planning meetings and
spreading the word about the group. At each meeting, I plan a fun
activity so the girls feel more comfortable. Then we talk about
scoliosis; I answer their questions, and sometimes the girls even
give advice to each other.
My
biggest challenge in volunteering with Curvy Girls is getting the
word out about my group. I have given flyers to school nurses and
doctor offices. I want as many girls as possible to know about these
support groups so they can come and be able to open up to other
people with scoliosis. The thing that has given me the most
satisfaction through this experience is seeing the friendships
between girls in my group and being able to help them through their
journey with scoliosis. I am so happy that I can help connect girls
who have scoliosis, support them and see them support each other. As
a Curvy Girls leader, I have learned that even if you are just
helping one person, you are making a difference. There have been
times when only one girl comes to a meeting, and I have learned that
even that one girl still needs support, and a listening ear can mean
the world to her.
When
I grow up, I would love to be a counselor. I think this volunteer
opportunity is helping me prepare for that because I am able to
talk through problems with girls in my group. To me, "forward
looking" means to be aware of the impact your actions have on
yourself and others in the future. As a leader for Curvy Girls, I
hope to inspire girls with scoliosis for many years to come. I hope
girls in my group will pass on the support they receive to other
girls who have scoliosis. If I were to come back in several years, I
think my volunteer activities would have made a difference. I think
that the girls in my scoliosis group would continue the group for
younger girls and those girls would continue it for the next girls.