Name: Sarah MacKenzie
From: Madison, Alabama
Grade: 10
School: Providence Classical School
Votes: 0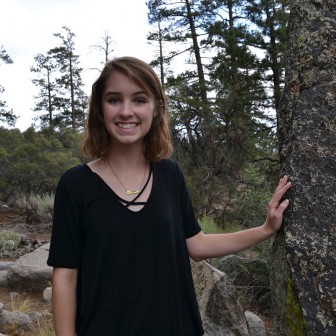 The
area in which I have chosen to volunteer is with underprivileged kids
in the streets of Memphis and those within the foster care system. I
chose this field because I believe that since I have been blessed
with a loving childhood, I should show that same loving affection to
those who have never experienced it. I also have patience with those
who have developmental issues, which those in foster care commonly
have. I have spent over 24 hours training for a foster care camp I
volunteered at. I served there assisting those who cared for the
foster children for a week. I also spent a week with an organization
called StreetReach where my youth group and I organized a Vacation
Bible School in the streets of poor neighborhoods in Memphis,
Tennessee. In Memphis, I went door to door recruiting children to
attend Bible Club with me in the mornings, and in the afternoons, I
walked them home. What was most rewarding to me was seeing the
children I interacted with actually show true happiness. When the
kids opened up to me and shared hardships with me, and I got to know
their deep struggles, I knew how much love they were deprived from
and how much love they desperately needed. Knowing this helped me
more effectively love them. Through these experiences I have been
more exposed to the hardship and the evil that exists in this world,
and that loving children who are prematurely exposed to such a
lifestyle is vital to their well-being and their future.
My
career goal is to be an independent occupational therapist. The
desire to be an occupational therapist arose through serving at the
foster care camp. I thrive working with kids with developmental
issues, which were a lot of the kids at the foster camp. I've also
wanted to be a teacher since I was in kindergarten. So, my desire to
teach and my love for those with sensory and motor and developmental
issues could be easily combined to pursue a career as an occupational
therapist. (In addition to those passions, I do very well in my
anatomy classes, which would be necessary to become an occupational
therapist—specifically a pediatric occupational therapist). Forward
looking for me entails a bachelors degree and then a masters in
Occupational Therapy. Forward looking means preparing myself for the
accomplishments I am aiming to attain. Forward looking starts now.
I
seek to enact change within the foster system. There is incredible
abuse of the foster system for acquiring welfare and money from the
state. Many are not motivated by love for foster children but by
greed. I believe that the mothers and fathers who have children taken
from them need just as much—if not more—guidance than the foster
parents. I would like to organize some sort of ministry for those who
have children taken from them. This would entail classes on how to
care for a baby or child, and other simple principles that they are
obviously unaware of. With occupational therapy, I would like to see
kids who are unable to perform basic daily activities overcome such a
disability and go on to lead incredibly successful lives. Changing
the world one kid at a time is a goal of mine. Changing the world one
mom at a time. Although I have two different dreams in occupational
therapy and foster system ministry, I believe that I will be able to
accomplish both in my lifetime.

I
should hope that I would make a difference. However, the popular
understanding of making a difference is not what I will strive
towards. The quality of making a difference is not, for me, based
upon a number of people I impact. If I can change the world for one
little kid, that would be enough for me. If I could change the world
for one mom who had to give up her kids, that would be enough.
Obviously, I would love to see thousands of broken moms and dads, and
disabled kids, overcome their difficulties and lead successful lives.
But if I don't change the world altogether, and if my name is not
in the headlines for changing the world, I will not feel like a
failure. I do know that this understanding of changing the world is
not popular. But changing one person's world is enough for Sarah
MacKenzie.