Name: Nikita Sivakumar
From: Alexandria, Virginia
Grade: 10
School: Thomas Jefferson High School for Science and Technology
Votes: 0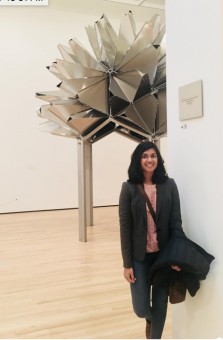 Nikita
Sivakumar
Grade
12
Youth
Forward Scholarship
Voice
to the Patients.
I
hated that there was absolutely nothing I could do to help her.
The
cure was simply to "wait"
as
my mom suffered from an unusual headache coupled with vertigo and
nausea. I had never seen my strong-willed mother shed a tear out of
personal pain. The ground underneath me shattered, as I saw the woman
who gave up her job and education to raise me reduced to a pale
patient in the white rooms of a hospital wing.
Whenever
my mom experiences vertigo, I feel an overwhelming sense of
helplessness. There is no effective treatment for her condition. In
the aftermath of one of my mom's first episodes, I resolved to
reduce the uncertainty families face against such medical conditions.
Throughout high school, I dedicated my free time to volunteering at
patient advocacy groups for rare diseases.
In
the summer of my sophomore year, I volunteered at Monochrome Man
(MM), which focused on raising awareness for a genetic eye disease,
Blue Cone Monochromacy (BCM). Since BCM is so uncommon, most
optometrists misdiagnose patients, resulting in generations of
insufficient treatment. Spending 18-20 hours a week, I poured myself
into the organization. As the head of communications for the
non-profit, I directed a team to develop medical brochures that
informed patients and eye specialists about BCM. Additionally, I
worked with my internship director to develop a research proposal for
BCM gene therapy. My efforts laid the groundwork for preventing
misdiagnosis of patients and finding a cure for the disease.
Through
interacting with child BCM patients and their families, I witnessed
firsthand the immense struggles they endured. These children faced
bullying for wearing large magenta glasses (specially-made glasses
for BCM patients) and developmental challenges due to the early lack
of vision. The experience taught me to be grateful for what I had,
and motivated me to continue giving a voice to those with rare
diseases throughout my professional career.
As
my work with MM continued, my internship director and I sought to
expand the outreach of our patient advocacy group through founding
PatientsLead, a non-profit that provides a platform for patients and
other interest groups to collectively pool investments towards
research for a specific disease. The approach is both unique and
sustainable, making it forward-looking. Every week, I spend 2-3 hours
on my PatientsLead responsibilities of organizing meetings with
potential investors and designing outreach material for target
audiences. The biggest challenge I faced at the start of this
endeavor was directing public attention towards our organization. How
do I market our 'patient-led drug development' model? However,
soon through persistence, I secured our very first meeting with an
investor. From there, we have been able to slowly build the
non-profit.
I
take pride in my volunteerism because it empowers families, like my
own, by giving them the opportunity to find a cure for their
condition. Twenty years from now, I believe that PatientsLead, along
with other such organizations, will help cure all rare diseases.