Name: Rida Ali
From: Ashburn, VA
Grade: 11
School: Broad Run High School
Votes: 0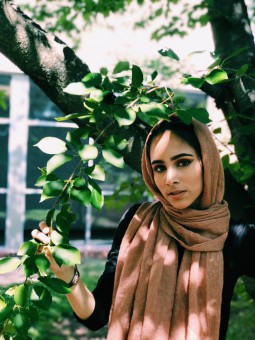 In my younger years of life, I would sneak away from my mom at the
grocery store and strike up random conversations with shoppers. I was
the opposite of shy and timid. I loved making friends and learning
about people and their stories. The store seemed so big to me. It was
a world of it's own, filled with people that I wanted to know.
Each shopper had an exciting and unique conversation to engage in. I would
advise suburban moms on what cereal to get for their kids, offering
them my personal expertise. I learned about Chinese culture from old
women who I could barely understand. They educated me on the
difference between Lo Mein and Cho Mein. I enjoyed talking to the man
who worked at the deli because he would explain which meats were
healthiest. I explored the vast expanse of the store, meeting new
people in each aisle. However, each friend making session would come
to an end when my mom would find me with worried tears in her eyes.
It's safe to say that she didn't bring me to the grocery store
very often.
My passion of making friends and learning about people didn't come to
an end, even though my visits to the grocery store did for a while.
As I grew up, I would feel excitement when meeting new people. I
found myself volunteering at refugee camps, laughing with the kids as
I attempted to pronounce words in their native language. My winters
were spent in D.C, handing out warm soup to homeless people and
learning about their circumstances. I joined clubs in school and
found myself attaining leadership positions by working with others. I
loved every second if it. The six year old inside of me exploded with
joy every time I would make a new friend.
Over the years, I came to the realization that I can not only meet and
learn about new people, I can impact them. I have not only the power,
but also the responsibility to leave a positive imprint on people.
Looking forward into the future, I hope to see a world where there is
no need for refugee camps or soup kitchens anymore. Attaining
financial aid would put me in the center of opportunity to create a
difference. I would be able to do what I love the most, learn how to
help others and change the world one step at a time. If given the
opportunity and resources to go to college, that is what I plan to
do.