Name: Jasmine Henry
From: Odenton, Maryland
Grade: 10
School: Arundel Senior High
Votes: 0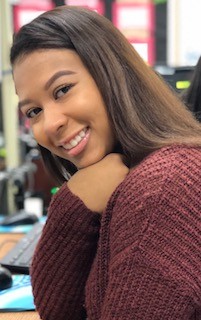 Jasmine Henry
Volunteering
December 21, 2017
Volunteering
Giving back to my community is something I like to do. During my junior year in
2016, I participated in "Thankful 100 times over". During this
volunteer service, I would buy a thanksgiving meal for families who
couldn't afford to have one. My class mates and I went to Safeway
and bought ham, string beans, beans, collard greens and pans to cook
food in. We would then go to a local church with the rest of our
classmates and give out the dinners to the less fortunate families.
This experienced has really made me realize how good it feels to help
others and put smiles on their faces. Later in my junior year I
decided to start a campaign that was called "You Hit, We Hurt".
This campaign was for women who are in abusive relationships. My
campaign provided shelters to stay and where to get help. I picked to
do my campaign on Domestic Violence because it is a subject that does
not have much awareness. Domestic violence is mainly not talked about
because it is an uncomfortable subject. I wanted to make a change in
my community to let women know that they can get help. During this
campaign I made brochures that had facts about domestic violence,
hotlines to call and shelters to stay. As a volunteer for the YWCA
and Sarah's house I donated lightly used and brand-new clothes for
women. To collect the clothes I donated, I posted posters around my
neighborhood and around my school to raise awareness and asked my
peers to donate what they had. My biggest challenge as a volunteer
was to explain why I wanted to do a campaign on domestic violence and
the importance of it. As a volunteer, the warm heart feeling of doing
something good for others is the most satisfying. Being able to
educate people on the problem of domestic violence is also
satisfying. A lesson I have learned from volunteering is to be
thankful for what you have!