Name: Leah O'Connell
From: Candor, NY
Grade: junior
School: Candor High School
Votes: 0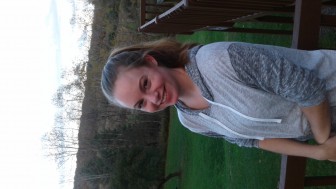 Volunteering
A Ripple Effect
I partake in many volunteer activities as there is opportunities to
volunteer everywhere you look. I love giving to the community and
helping those in need. Because food is a necessity I found it fun
when I volunteered at the local food pantry and saw the gratefulness
in the citizens' faces. I also enjoyed volunteering at my church
for the Open Hearts Dinner. Preparing and serving meals was a so
fun. One of the things I look forward to most on Mondays is Key
Club. It is my third year participating and I love it so much! My
favorite part is our Adopt A Family for Christmas. I get so excited
to shop for presents to help the families provide a great Christmas
for their families. I am also apart of SADD, Students Against
Destructive Decisions. I especially had a great time at our
presentation to the boy scout group educating them on the dangers of
drugs. I hope that I made a difference in keeping the kids safe and
aware I have spent a lot of time bell ringing to raise money for the
salvation army through 4H and volleyball. Even though my family's
income is limited I am so glad we have adopted a sponsor child
through World Vision. Her name is Salume and she lives in Uganda.
She and her family are in need of extra help so we send her money and
write her letters each month including stickers and little toys for
her. I enjoy imagining her excitement when she receives the gifts we
send to her. I also took part in the Rachel's Challenge Club where
we dedicated our time to helping those in need.
Of the various volunteer activities I have done I have learned that I
love doing presentations and teaching younger kids. I have realized
my career goals will involve children because I feel the happiest and
time seems to fly by when I am around them.
I see my volunteer activities as "forward looking" because I
believe they have a ripple effect. Every volunteer opportunity that
I am involved in whether it is big or small will have a chain
reaction. Every life I touch will continue to touch generations to
come.
I do not seek to foster change in this world as I feel we have a
beautiful world that is occupied by wonderful people. I do seek to
foster love in everything I do.
If I look back in twenty years I would have to believe we all make a
difference in every kind thing we do. I have first hand experience
of being a recipient of somebody helping me when I was a small child
that has helped shape me into the person I am and still becoming.
Their genuine love and kindness was as great as any volunteer
activity and I hope in everything I do I will have that same effect
on those around me.