Name: Stephanie McLaughlin
From: Stuart, FL
Grade: High School Sophomore
School: Community Christian Academy
Votes: 0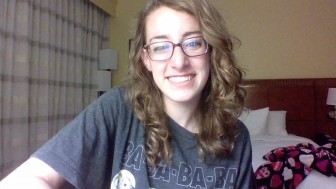 I believe leadership
is a good trait because it produces responsibility and good
character. My leadership and volunteer roles have been exemplified in
my school and in my church. I tutor middle school children four times
a week and assist in my church's children's ministry every other
Sunday.
Under the pillar of
service, my school's National Honor Society provides after school
tutoring for those needing assistance. I have been a part of National
Honor Society for two years now and am a regular tutor.I have been
assigned four tutor sessions a week with each session being an hour
long and I provide homework help, understanding of their chosen
subject, test and quiz preparation. This provides a smaller learning
environment than a classroom of twenty or more students. My frequent
availability allows the students to not have to skip a session
because their tutor can't make it. This had made a positive
difference because I am dependable and can assist many students
education. This had made a positive difference with the students
because after attending sessions their grades increased and their
overall classroom performance was better. I have enjoyed this area of
service because I can help students understand their material and
advance forward in their classes.
Every other Sunday I
serve in the children's ministry at my church which has ages from
infants to fifth grade. I have been a part of it for six years and
over the years my leadership roles have increased. I began as just
another helper to watch over the children and to keep the peace among
other children. Overtime with an increase in maturity, the teacher
has put more responsibility on me. I now assist lower age groups and
sometimes help with the infants in the nursery. Sometimes I will be
in charge of a certain age group and will lead the lesson and
activities for that age group. This leadership role has taught me
discipline not only for myself, but how to handle it for those
younger than me. It has taught me to take charge and to be someone
the children can look up to. This service activity has made a
positive difference in my church and community because I am always
willing to serve.
As I progress into
college I believe my roles will have an influence on others. My role
as a tutor has set an example for younger NHS members on what it
looks like to fulfill the service pillar. My role in the children's
ministry has set an example for younger teenagers wanting to serve in
it and what it looks like to serve with children and to be a leader
in that setting. Though I am not looking to pursue a career centered
around children, these roles have provided me with experience around
children if I happen to change my mind and want to work with
children. I have enjoyed these areas of leadership and service and
look forward to the opportunities i'll have in college.