Name: Madison Callaway
From: Brunswick, GA
Grade: madisoncallaway@gmail.com
School: madisoncallaway@gmail.com
Votes: 0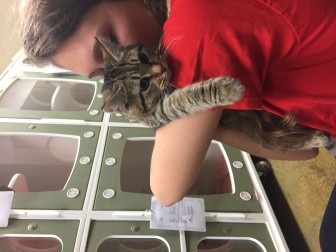 Madison Callaway
My whole life I have loved animals, and I have never been without a pet. As a little
girl, instead of playing with dolls, I played with stuffed animals
and my cat. I've always believed that animals deserve the utmost
care and they often don't receive it. When I first began high
school, I decided that I wanted to work with animals for the rest of
my life. I watched a documentary about injustices such as mass
euthanasia and mistreatment of shelter animals. I am always saddened
to see the way such beautiful and innocent creatures are treated. It
sparked a drive in me that I have not been able to stifle. Animals
have always been able to teach me about love, patience, and
understanding and working with them has allowed me to grow as a
person.
Once I turned 16, I applied to be a volunteer at the humane society and me
and my mom volunteered there most weekends. We fell in love with the
cats and dogs there and every second I was there, I was having a
blast. Each animal always has a unique personality and despite their
living situations prior to the shelter, they were all very loving.
One thing I love about animals is their capacity for love and
forgiveness that humans don't often seem to have. In addition to
volunteering at the humane society, I also began to volunteer at my
county's animal shelter which is right down the street. The main
difference I saw in the two was the lack of space. The maximum
capacity for the county shelter was way less than that of the humane
society and, working with the animal control officers, I saw many
animals that were injured and in need of help that had to be turned
down due to a lack of space. One day at the county shelter, I worked
in the quarantine unit. Many of the animals were injured and
malnourished, so I asked one of the officers about each of them. I
could see that it was hard for her to talk about it. One Pitbull had
raw skin all over his back and face and she told me that his owner
had lit him on fire. There was a beautiful German Shepherd who I had
the opportunity to take on a walk, and I was told that she was new
and wouldn't eat. I saw her ribs very clearly and her stomach was
virtually nonexistent; she was scared and it took a lot of patient
coaxing to get her to come outside with me. I saw cats with missing
limbs and eyes and my heart broke, but I knew these people were doing
all they could to make these animals happy.
Volunteering over 60 hours combined with the Humane Society and the Glynn County
Animal Control has taught me a level of compassion I didn't know
was possible. Working with animals provides me with such a great
feeling of happiness that I plan to work with animals for the rest of
my life. In college, I plan to major in ecology or animal biology so
that I can help animals of all species. Animals deserve a voice to
stand up for them when they can't do it themselves and I am
determined to be that voice.