Name: Carolina Torres
From: Lynwood, CA
Grade: 9
School: Lynwood High School
Votes: 0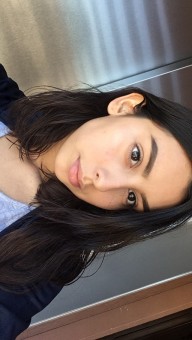 I
have always known what I wanted to be, my mind has been set on
becoming a doctor since I can remember. I searched for opportunities
that will guide me to the path of impacting the medical field. My
biomedical teacher, Mrs. Smith offered our classroom if we were
interested in volunteering at our local hospital, and immediately I
signed up for it. In August I started voluteering at St. Francis
Medical Center. I was nervous, to say the least. The 6th floor was
assigned to me and the hospital was welcoming. I stayed there for
four hours and in that time I learned a lot.
I
used to not understand how hospitals worked, the abbreviations,
signs, passwords, paperwork. Now, it is comforting to me.
Volunteering at St Francis has taught me how good it feels to be
selfless. My resonsibilities are to tend anyone who I can. Whether a
nurse needs me to fix paperwork or a patient needs my assistance, I
know that I am making a small difference. I am usually at the
hospital two times a week for 4 to 6 hours and in the months of
August to now I have completed over 100 hours. I try to balance
everything out since I have three AP classes, a college course
(medical terminology), and clubs. My main priority is making my
community a better place.
My
biggest challenge volunteering at the hospital was definitely getting
out of my comfort zone. I am an introvert and being around nurses and
patients forced me to speak up and have a voice. I am exteremely
grateful for that, it is molding me into the person I aspire to be.
Looking towards the future, this is preparing me for when I go to
college and really focus on the medical field. I have learned a lot
of medical terms in the hospital which also helped me in my medical
terminology class at El Camino. Overall, when I look back at this
opportunity, I know I made a small difference in a patients life by
helping them in their time of need.