Name: Philip Cocco
From: Yattesville, PA
Grade: High School Sophomor
School: Pittston Area High School
Votes: 0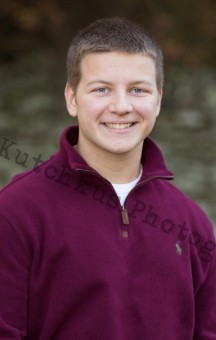 Growing up, I have always been made aware of how fortunate I am. Even on days that I
feel overwhelmed by my "problems," I am always reminded of how
much more difficult life is for young people who battle disabilities.
For this reason, I set a goal for myself in 2016 to truly impact a
local center for disabled children.
During my junior year of high school, I was given a wonderful opportunity to do
something great for my community. Through a local organization, I
was given the support needed to enact a service project for a cause
of my choice. Without hesitation, I began to devise a plan to help
our local children's center. Along with my peers, I spent nearly
ten hours a week planning the fundraising portion of our project
alone. This number does not include the countless hours we spent
actually working with the children and providing hands on support.
Personally, I was responsible for keeping my group on task and
focused on our cause, for a team fails when it loses its reason for
going forward. Overall, our efforts over nine months helped raise
$13,500 for the cause and give lasting memories to the children.

Of course, no story of triumph is complete without its fair share of
challenges. Perhaps one of the biggest challenges we faced was
simple motivation. After all, we are teenagers and laziness is a
strong force in our lives. As stated earlier, it was our inner desire
to truly help these children that kept us going through adversity.
This was also what gave me true satisfaction. Bringing joy to the
faces of so many children who face so much grief is all I ever need
to keep me going.
Along my journey, I learned many valuable lessons. Perhaps the most valuable lesson I
learned was humility. Before this project, I had always been mindful
of the less fortunate, but I never truly knew exactly what it meant
to be blessed. From my experience volunteering, my eyes have been
opened to just how much a single person is capable of.
Unexpectedly, my volunteer work has aligned with my career goals without me even
realizing. Though I have no plans to become a doctor or direct
caretaker of children like the ones I worked with, I do plan on
becoming a lawyer so that I can truly ensure that the children are
protected from any scrutiny or ill intent.
Of course, I have done much more volunteer work before this project and much more since
then, and I do believe my actions are forward looking. To me,
forward looking. To me forward looking means many things such as,
ambitious, enterprising, and innovative. The combination of the
large amount donated and amount of time volunteered has set a new
precedent in my community for what a service project is and what it
can be. It has shown students that they can make a huge impact that
can last for decades. However, I don't believe that my actions
alone will make a significant impact at base value. The true impact
that I have made was the new precedent itself. My work has started a
cascade of my peers attempting to top my efforts, and as long as this
competition continues, the true winner will be the community.