Name: Audrey Muller
From: Apache Junction, Arizona
Grade: 10th
School: Imagine Prep Superstition
Votes: 0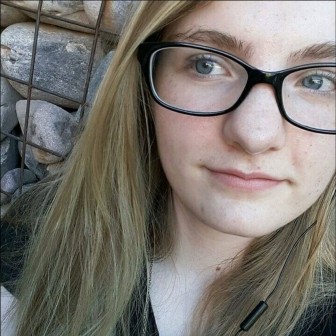 Audrey
Muller
Youth
Forward Scholarship 2017
Volunteering
in Youth Ministry
My
name is Audrey Muller I have chosen to volunteer in the area of the
production team at my youth group at Redemption Gateway. I chose this
area to volunteer in because I love my youth group and I wanted to
both become more a part of it and to help others love it just as much
as I do. I've been volunteering for about two hours a week for
nearly a year now, excluding holidays. My responsibilities as a
volunteer include making sure the lobby TVs are on, making sure the
projectors are on, making sure the confidence monitor is on for the
worship team, printing schedules for the tech team, editing slides to
make sure they are both free of mistakes and look attractive, turning
slides during worship and the lesson, working lights during the
lesson, making sure the right slides are on in between services,
adjusting slides to fit the songs, and more. My biggest challenge as
a volunteer is keeping on top of all of my responsibilities in a
quick fashion so I don't slow down the rest of the team. My
favorite part of volunteering is being part of a team full of awesome
people who love God and knowing that I am helping them and others to
have an excellent and loving learning environment at group. Besides
learning how to use new technology and programs through volunteering,
I have also learned how to be in a team and how to manage a role in
which others are depending on me. My interests and career goals do
align with my volunteering as I have to incorporate visuals into my
volunteering job, and I want to be a graphic designer/photographer in
the future. I see my activities as "future looking" as they are
teaching me how to work better with a team and to get used to others
see my work in a public setting. To me, "forward looking" means
keeping your future in mind with every decision you make. I hope to
make my youth group an even better experience for students to attend,
so they can therefore learn more and take the lesson to heart,
spreading the Gospel and hopefully making the world a better place.
If I were to come back in ten years, I think my volunteer activities
would have "made a difference" for my teammates now, and future
team members. My volunteering would make a difference for my current
team members as they would remember my ideas, attitude, and hard work
that I put into my job, and would keep this in mind when doing their
work. It will make a difference for future team members as well since
they will be held to the standard that I have set by working my
hardest. I am very thankful for the opportunity of volunteering for
Redemption Gateway Students.