Name: Cameron Auclair
From: Orlando, FL
Grade: cameronauc@gmail.com
School: cameronauc@gmail.com
Votes: 0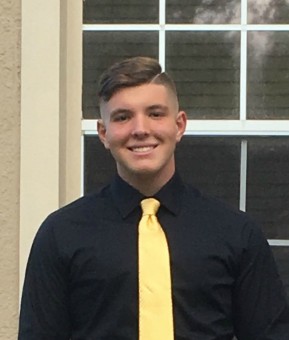 I
began my community service in middle school when Boy Scouts of
America was invited to present information about the program at my
school. Boy Scouts not only taught me so many things
about leadership and life skills, but also involved me in many
projects in the community. As I earned successive ranks in Boy Scouts
I grew from a follower to a leader in high school. I have
enjoyed the opportunity to make a difference, small and large, from
leading food drives, roadway cleanings, cleaning campgrounds, cooking
for other non-profits, and so much more. I
completed my Eagle Service Award which benefitted the Avian
Reconditioning Center by building new shelters for injured birds.
I continued my community service when I joined JROTC. We ran
5Ks to raise money for the Wounded Warriors Project and St. Jude.
Every year we contribute proceeds from our concession stand sales to
the school as well.
My
volunteering started by working within a group, and grew to leading
the entire project when I built the eagle enclosures for Avian
Reconditioning Center. I like to work where help is needed. Since I
was 11 years old I have been consistently doing between 5 hours a
month in community service.
The
most important part to any volunteer project is people. The more
people involved on any project allows for more to get done. This can
be difficult to get the needed people especially when your volunteers
are young. In addition to people, the planning of a project is very
important. The plan gets the project done smoothly. I did learn
from some of my mistakes on my Eagle Service Award Project that
lesson. I ran out of materials and ended having to return the
following weekend to finish it.
My
activity with Second Harvest Food Bank was very satisfying. You
could see immediately how it benefited other families. If families
can't eat they in turn can't work or take care of each other.
Their health suffers and continues to drag the family down in
despair. A simple thing as food can make such a difference
immediately for someone else. I understand that everyone needs a
helping hand at different times. In this country we find it very
important to make sure nobody is hungry. We still have work to do,
but I do know that people do not die of starvation. They may be
hungry at times, but we work hard to get food to people. It is our
duty as Americans.
Volunteering
has given me a new perspective on my community. In the future I want
to help people and animals every way I can. Through this
volunteering I have become a better person.