Name: Jacqueline Corral-Armas
From: Tolleson, AZ
Grade: Sophomore
School: Tolleson High School
Votes: 0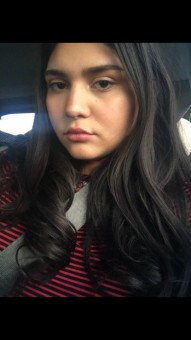 Volunteering
Is Looking Forward
Growing
up, I spent a lot of time in youth camps and youth nights at my
church. I am fond of the memories I spent with my small group leader,
singing songs, and listening to the teacher share her testimony. All
the people who created those moments are volunteers. Strangers who
dedicated their time and work to create a safe environment for me, a
fellow stranger. I wanted to offer the same experience to youth girls
living in urban Phoenix. As I entered my freshman year, I became a
volunteer at the same youth night I grew up in. When it came to
Monday nights, I was busy fetching water or food and sparking
conversation with the fourth and fifth grade girls in the program. My
biggest challenge was being patient and consistent enough for the
girls to trust me and open up to me about their day. Once I opened up
about my own testimony and how I dealt with my struggles, they also
began to open up about the real problems these young girls had to
face. I could relate to similar struggles the girls were facing. When
I was their age, youth nights were my personal escape to socialize,
sing, and feel free. And it was satisfying to me that I became
someone I once looked up to. These girls now looked up to me and that
made me want to be the best version of myself. I know that I took
part in providing a safe environment to the youth. Providing an open,
free space creates an area for people to express themselves, which
allows personal growth and confidence, instead of suppressing their
emotions. This instills communication and relief to the future adults
of our society. Looking forward is caring about others and making
yourself better for the greater good of the people as a whole.