Name: Trafton Groshel
From: Virginia Beach, Virginia
Grade: 10
School: Floyd E. Kellam High School
Votes: 0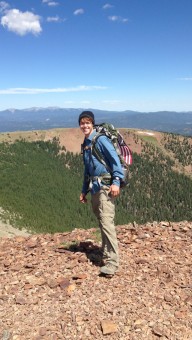 Volunteering: The Glue That
Holds Us All Together.
My first real experience with
volunteering was at the San Antonio Food Bank, an organization that
collects and serves food to people in need in the City of San
Antonio. I was fourteen, trying to get service hours to earn my rank
as a life scout. My instructions for my job were simple: sort food
into boxes, and when they are full carry them to their specific
loading platform. It seemed like impersonal grunt work, but I was
optimistic and eager to get my service hours.
The amount of donations
received was nothing short of impressive. It took us four and a half
hours to sort through all of the food in our assigned area, which was
only a fraction of what was donated. It was fun, and I did feel a
sense of purpose for helping give back to my community. However, it
was what the director of the volunteers told me and everyone else
afterwards that really stuck with me- "You just helped feed over
one thousand individuals. Each and every one of those individuals are
going through some kind of hardship, and you just made one part of
their life a little better."
I found this to be both
reassuring and troubling. Thinking about how everyday, people have to
worry about where their next meal would come from or where they were
going to sleep that night, made me sick to my stomach and gave me a
whole new desire to volunteer as much as possible. I couldn't help
myself from thinking that if I had the power to help someone in need,
even just a little, why on earth would I not do it?
Since then, I've volunteered
regularly with the San Antonio Food Bank, Out Of Darkness walks to
prevent suicide, friends' Eagle Scout projects as well as my own,
and beach clean ups. I've come to realize that the most precious
thing in this world is time, and there is no act more noble than to
give yours. Volunteering and giving charity to those who are less
fortunate than us is a responsibility everyone must take with heavy
sense of duty. If people were to stop giving back and volunteering,
so many people would lose their chance to achieve a comfortable
lifestyle.
We are all humans trying to
make the most of our time in this world. Some just need a little help
getting back on their feet. To me, volunteering has become a way for
me to help another human being with their troubles, even if it's
just sorting cans or setting up tables. Whatever it may be,
Volunteering is how we as a population can stick together to ensure
that no one in this big, sometimes unforgiving world gets left
behind.