Name: Nicole Butterfield
From: Elk River, Minnesota
Grade: 10th
School: Elk River High School
Votes: 0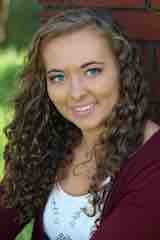 Nicole
Butterfield
Volunteering
through my Faith
The
Red Lake Indian Reservation mission trip, was my first volunteer
experience. When I left for the trip I was quite nervous because I
had never volunteered before, however; that quickly changed. This
mission trip sparked the start of hundreds of hours I now volunteer
in my community. While on this trip the majority of my time was
spent with the children of the reservation. The children just adored
the love and attention I gave them, it made me realize that a simple
act can make a child's day. There was one little girl that I will
always remember from the trip. She came to the summer program one
day and refused to talk or participate. So I tried talking to her.
At first she ignored me but I did not give up and by the end of the
day she opened up to me; she even fell asleep in my arms. The Red
Lake mission trip sparked a passion in my heart for volunteering
through the experiences that I had.
Since
my first mission trip I have been on another to Washington D.C and
will go back to the Reservation and New Orleans this upcoming summer.
Furthermore, I joined and have been on my church's Core Team for
four years. The team consists of a group of high schoolers that plan
and run teen events three times a month. During our events we always
incorporate a faith aspect whether it is singing or me giving a talk.
I also have been a coordinator for the vacation bible school program
for three years. As a coordinator it really made me step out of my
comfort zone by: leading activities, giving talks and singing music.

I
have learned many things from volunteering in my church community. I
learned how to become a better speaker and set an example for younger
kids. All of the kids I interacted with through my volunteer work
have looked up to me. Kids even come to me for faith advice. The
satisfaction I receive through helping kids grow their faiths is just
so fulfilling. I hope that as years go on, even 30 years from now,
by creating a fun atmosphere for younger kids they will see that
having a faith is fun and exciting.
I
also do volunteer work outside of my church. I am apart of NHS at my
school and have made varsity level each year for running my own
service project and having over 60 hours of volunteer work. Some of
these activities I do through NHS are Feed my Starving Children,
managing concession stands at school sporting events, volunteering at
elementary carnivals and judging history day and science fair
projects in the middle schools.
Volunteering
has become a very important aspect of my life that I will continue
with until the day I die.