Name: Erin Jennings
From: Fairview Park , Ohio
Grade: Freshman in High School
School: Fairview High School
Votes: 0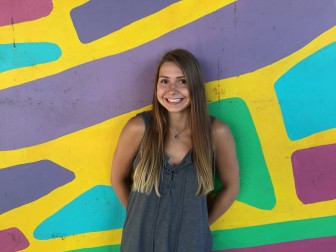 27 October 2017
Volunteering to Pay It Forward
I began volunteering my freshman year of high school. I started helping
out by watching the children in the nursery at my church while their
parents were in mass. This was something I chose to do after I got
confirmed in my church. It is so much fun to get to know the kids and
see how thankful their families are that we come to keep them
occupied so that their parents are able to focus during church.
Another way of volunteering that I have not done as much but still
often enough is that I help out the elementary aged kids at a
volleyball camp. I have been on the varsity volleyball team since I
was a freshman, so I know that the younger girls look up to me and
enjoy when I am there to help them learn. I also have volunteered at
middle school volleyball tournaments, working the concession stand,
line judging, and keeping the statistics book for the team.
I also have been involved in martial arts for eight years and have
earned a black belt. I now spend a few hours each week teaching the
kids classes at my karate school to help them learn how to defend
themselves and have the important quality of discipline. I also
frequently judge at karate tournaments throughout Ohio, and sometimes
nationally. I think that volunteering at karate definitely is the
most important to me because eight years ago, when I was the youngest
one, I looked up to the high school aged students who came in to
teach me. Now I am that person that they all look up to and want to
be like, which is a great feeling. It is really nice to be able to
give back to my coaches who have spent so much time getting me where
I am today, by helping them teach only a few hours a week out of the
many that they spend there each day.
One more form of volunteering I do currently is that I serve as a
representative for my class. This means I attend meetings to plan
school events and get my class involved in the happenings of our
school and community to increase school spirit and make it so that we
have the opportunities to have nice things within our school. This
year I also plan on volunteering at the basketball game concession
stands at home games. This is something I have not had the
opportunity to do yet because it is only open to juniors and seniors
and it is not yet winter sport season. Lastly, I recently applied to
the National Honors Society in my school and hope to be accepted next
month. The NHS is mostly about volunteering and giving back, which is
something I am prepared to do if I get accepted. This is how I have
been paying it forward through volunteering.