Name: Athziri Guerra
From: Fullerton, California
Grade: 11
School: Buena Park High School
Votes: 0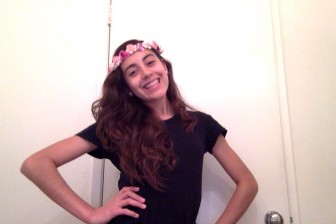 Volunteering is something that I find really necessary when comes to helping out
the community and the society around us. I have this dream of one day
being able to make a difference in the lives of others with a certain
organization or project that I create. I have done a variety of
volunteering, but the category I have participated in the most is
revolved around education. I love helping others whenever they are
lost in some sort of situation because I am able to relieve them of
their worries or issues. I get this great feeling inside me whenever
I help someone understand a concept that was very difficult for them
to comprehend. I did a lot of tutoring at after-school programs and I
also tutored during a 30 minute break at my school in classrooms. I
know that there are many people who see these volunteer services as a
necessity in order to graduate high school or for other requirement
purposes, and so they do not really enjoy what there doing. In my
case, the service I do for others is immensely empowering because it
helps me view my surroundings with a different perspective. Being a
helper to others in school made me notice those who are truly there
to learn and those that don't care about anything. I also
understood many tough situations students faced and the struggles
many parents implement on their students to make sure they do good in
school. I find these services very vital to not only helping out a
community, but to learn about life in general and the surrounding
nature. The amount of hours that many need to do is something that
everyone always complains about. What they don't know is that the
actual truth lies inside of these activities.
One of the main aspects that I have been very interested in volunteering
for is in our environment. I really want to make a change in the way
humans treat the surrounding nature around them. I am going to be
getting involved with an organization that focuses their time on
owning trees and also planting trees. I think it is necessary for
people to treat planet Earth with as much care as possible because if
we take advantage of it and begin to ruin it, then we as humanity
could be destroyed by living on an unhealthy planet. We need to take
care of the only place where human race could live because it is
essential to our survival. Without trees humans would not even be
able live on planet Earth, yet we have companies that are destroying
huge chunks of forests or cutting down trees in replacement of
something "more important". Trees provide us with the oxygen we
breathe every second of our lives. Imagining a world without all of
the natural living things would seem very difficult to contemplate. I
want to have people change their daily routines so that we can keep
our planet healthy and safe from extinction. Things such as global
warming, melting of icebergs, and etc… are all causes that humans
brought to planet Earth. Before humans came to the planet there never
existed these terrible things, but as the years pass by, humans have
caused a lot of harmful factors to planet Earth.