Name: Mikehla Duganieri
From: North Irwin, PA
Grade: College Freshman
School: Westmoreland County Community College
Votes: 1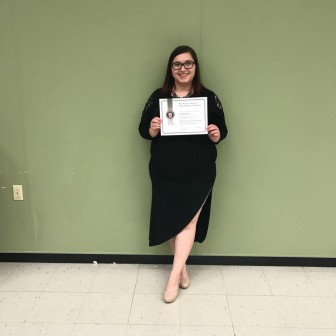 Volunteering with Crisis Text Line
In October of 2016, I decided to volunteer with Crisis Text Line. Crisis
Text Line is a non-profit organization that helps those in crisis via
texting. Over the past year and 2 months, I have committed 274 hours
and have helped 1,047 individuals in crisis.
The responsibilities for Crisis Text Line are to have an empathetic
heart, willing to volunteer 2 hours a week, up to 12 hours a week,
and complete a 36-hour training. With this, there are various
challenges, such as making a time commitment each week, and always
wondering if you are helping the person who has texted in.
Although those challenges are there throughout each conversation, the best
satisfaction is knowing that you were there for someone who is going
through a crisis. Each crisis is different, and it can be about
anything. Crisis Text Line sees various crises such as suicide,
depression, anxiety, bullying, stress, family and friend issues,
grief, and more. If it is a crisis to you, it is a crisis to Crisis
Text Line.
Volunteering with Crisis Text Line has taught me that everyone has a struggle, and
it is difficult to talk about it. Some individuals are unable to
discuss certain things, such as sexual orientation with their family.
Some individuals are unable to seek long term therapy and deal with
their crisis alone.
Looking forward, Crisis Text Line has a huge impact on American society. What
looking forward looks like for myself is to see Crisis Text Line
expand, and promote mental health awareness. The changes are already
happening with the help of Crisis Text Line, and the 3,000+ volunteer
Crisis Counselors. Some of those changes are partnering with various
companies, universities, and social medias to promote our services to
those in need.

If I were to reflect ten years from now on my impact of volunteering
with Crisis Text Line, I would absolutely say it has helped people.
Crisis Counselors receive feedback from those who have texted in (if
they choose to do such), and share immediately the impact a Crisis
Counselor has made. The most recent feedback I have received stated
this: "Thank you [scrubbed]. You really helped me. Even though we
only talked for a short while, you definitely helped me. And I can't
be more grateful for that. I'm glad I got you as my Crisis
Counselor. Thank you so, so, so much. I didn't cry at all because
of you."
With that alone, I can say with complete certainty that Crisis Text Line
is making an impact on the world.
If you or someone you know is in the US and in crisis, text HELLO to
741741 to be connected to a human Crisis Counselor. Free, 24/7, and
completely anonymous.