Name: Marla Grubb
From: Jewell, Iowa
Grade: 2015-2016 sophomore in high school, 2016-2017 junior in high school, 2017-2018 senior in high school
School: South Hamilton Community Schools
Votes: 0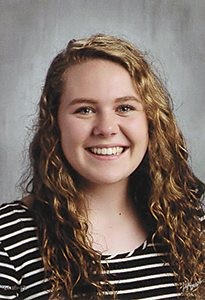 Volunteerism
I
have been a part of two organizations that are big on volunteer and
community service – 4-H and FFA. I have not chosen any particular
area in which to volunteer.
In
4-H we help out with the Easter egg hunt and donate food to the
Lord's Cupboard every year. We have also made tie blankets for NICU
@ Mercy, packaged Meals for the Heartland, helped at Adoption
Saturday (Hamilton County twice), painted the poultry barn at the
fairgrounds, gave money for new poultry cages, made bluebird houses
and put them out and I have been a youth leader for poultry.
In
FFA we do a 4th
grade safety camp, a community blood drive and grilling at track
meets, cross country and the school carnival every year. We have also
made tie blankets, given out harvest meals to local farmers, and I
donated blood for the first time this year.
I
have also helped coach soccer, basketball, and golf.
I
help with Sunday school and our church nursery.
I
started tutoring junior high math students.
Over
the course of a year, I think I volunteer approximately 40 hours. My
responsibilities as a volunteer are to come ready and willing to
work. My biggest challenge is finding time in my schedule to
volunteer. The most satisfaction I have had as a volunteer happened
recently when a friend and I did bell ringing for the Salvation Army.
It was cold outside and a lady suggested giving us money for hot
chocolate. We declined and she left. Later a car pulled up and the
window rolled down, it was the lady; she drove over to Casey's and
bought us hot chocolate. I ran over to her car, took the cups and
said thank you. My friend and I both had tears in our eyes. Through
volunteering I have learned that it is important to give back to the
community and it feels good.
I
want to work in the field of Human Resources, so it would be my job
to find the right person for the job. To me forward looking means
anticipating and planning ahead for the future. Several of the
activities/ideas above were born out of a need for something to be
done now, so it could be used in the future. Such as the Lord's
Cupboard, tie blankets for the NICU, Meals for the Heartland, poultry
barn painting and cages, and the community blood drive. I am not
trying to change the world, but am doing my part in my little corner
of the world. If I were to come back in ten, twenty or thirty years I
do think that my volunteer activities will have made a difference. I
know that several of the things that we did made a big difference for
some NICU baby and their family, a child being adopted by a family in
Hamilton County, and people who needed food. All these experiences
also helped to shape me into the person I am today.