Name: Allegra Mia Romero
From: Sylmar, California
Grade: 10
School: Sylmar Charter High School
Votes: 0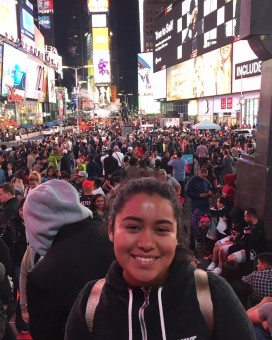 I
display my passion and love for my religion through my participation
in Youth Ministry. As a group leader, I lead candidates who are young
high schoolers, most who are in ninth and tenth grade, that are going
through the two-year process of the sacrament of Confirmation. Even
though it can sometimes be challenging to arrive on time to sessions
and meetings due to tennis or basketball practice, I still manage to
spend 3-4 hours every week either leading young teens or planning
sessions with my fellow group leaders. Every Wednesday, I meet with
my small group of four candidates: Alexis, Veronica, Kevin, and
Anthony. Their bright smiles and sharp attentiveness reflect their
hunger for a strong relationship with God.
My
volunteerism in my church has helped me grow as a person. I
have learned to be my own individual and to not seek any approval
from anyone. My coordinators and minister, who have trained me to be
an influential leader, have helped me grow a strong connection with
God. In the past,
I
found myself constantly in a hopeless position. I would ask myself,
"What
is my purpose?"
and
"Where
will I end up?"
Now
after having gaining this endless amount of strong faith, I reflect
on a bible verse that has impacted me on an emotional and mental
level. Jeremiah 29:11, "For
I know the plans I have for you, declares the Lord, plans to prosper
you and not to harm you, plans to give you hope and a future."
I
hope to continue to grow as a person and make a change in the lives
of these teens.
Looking
towards the future, I am excited to see my teens receive the
sacrament of confirmation. My participation is this activity is
"forward
looking" because it is making a change in the lives of the young
teens that may follow in my footsteps. My volunteerism may guide them
towards the right path and to feel the comfort and love that God
radiants. Teens will choose to also become group leaders because of
my efforts. If I were to come back ten, twenty, or even thirty years,
I believe that my efforts are still changing the lives of my many
high schoolers who are influencing other teens to be followers of
Christ.

It
is truly a blessing to have the opportunity to see the candidates
open up overtime and
to
find their passion for God. I see myself in these teens because I was
once in their shoes. I hope to see them grow in their faith just like
I did. Every time I see them at church on Sundays or during the week
for our class sessions I feel a ray of sunshine through them. Their
radiance feels uplifting because it helps me realize how I truly am
practicing my religion and making a change in my community. I look
forward to helping them through their hardships and help them become
a better version of themselves.