Name: Sarah A Schwan
From: Lyons, Ohio
Grade: Freshman
School: Evergreen High School
Votes: 0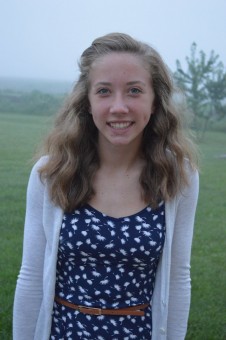 VOLUNTEERISM
THROUGH YAC
Sarah Schwan
Volunteerism
is an aspect of life that I find increasingly important in our world.
We are faced with tragedy everyday, and it is the selflessness and
helping hand of volunteers that shed a ray of hope on the world. A
growing problem in my community is the use of drugs and alcohol by
young adults. I was impacted personally by this two years ago, when I
watched my best friend deteriorate under the peer pressure of his
"friends" and succumb to marijuana and alcohol. These substances
hindered his growth as an individual by decreasing his motivation,
and addiction turned him bitter. As I entered my sophomore year of
high school, I decided to do my part in changing the path my
community was taking.
I joined the Fulton
County Youth Advisory Council (YAC) in the summer of 2016, just
before my sophomore year. The organization is a student-lead
volunteer group that works to combat the rising influence of drugs
and alcohol in the county. The group meets for three hours once a
month, but stays in frequent contact through messaging systems. Each
year, the group picks a focus area; that year, we chose alcohol. Each
individual works in committees to determine community readiness,
budget allowances, and the best way to reach our audience. As a
volunteer, I lead a discussion on the best way to reach our
community, and I created the basis of a video campaign that we later
used. We joined the a campaign through the OYLPN (Ohio Youth Led
Prevention Network) to make a video, and started a video social media
"Talk2Me" campaign expressing parents' need to talk to their
children about the dangers of underage alcohol use. This year, I have
taken on a leadership role within the organization. This extra
involvement gives me the power to direct more focused attempts at
changing my community, as well as challenge and teach my younger
peers in the organization.
As a volunteer, I
have struggled with the truth that change does not happen instantly.
Our projects aim to have a cumulative effect over numerous years, and
change takes time. However, through the media campaign, many parents
posted pictures with their children, hash-tagging "#WeTalked."
Watching our project succeed in reaching even one individual was so
gratifying and restored hope in the process. Our projects must
be forward looking, because the change takes so long to implement and
we plan on building on our project this year by visiting classrooms
to talk to middle school students about the coming pressures they
will face. Through my volunteer efforts, I hope to bring awareness to
the growing substance problem in my community and combat it with
early education of the pressures and dangers that are attached to it.
My current community, I believe, will continue to benefit from the
work of YAC due to the large participation and future-oriented
planning of the organization's leaders.