Name: Kevin Harvey
From: Douglasville, Georgia
Grade: 11th grade
School: Chapel Hill High School
Votes: 0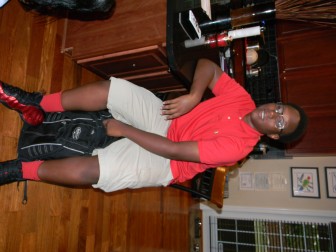 Kevin
Harvey
Youth
Forward Scholarship 2017
12/14/2017
What
Is The Area In Which You Have Chosen To Volunteer? Why Did You Choose
It?
Abraham
Lincoln said, "He has a right to criticize, who has a heart to
help!" Like Abraham Lincoln, my interests and career goals,
line up perfectly with my heart to help others through volunteering.
I have volunteered at Toys for Tots, collected can goods for the less
fortunate, collected toiletry items for homeless women and
volunteered as a summer camp counselor working with the youth. The
many hours I have spent volunteering and helping others lines up with
my "forward-looking" dream of becoming an engineer.
Forward-looking means differentiating myself from others now to
attain my goals in the future.
Engineering
would allow me to help people by figuring out the best way to meet
their needs. This can involve something as simple as designing
genetically engineered food to meet the food shortage needs, to
designing new transportation systems to decrease traffic pollution,
to developing different ways to use energy. Helping others makes the
world a better place. It's important to me because it makes me feel
good that I can lend a helping hand to others and I set a good
example for others to follow.
The
most memorable volunteer work I have done so far is at a summer camp.
I volunteered at a summer camp as a counselor and assisted the
teacher in organizing and leading group activities each week. I
worked more than 5 hours a day for 5 weeks at Inspiring Scholars
Summer Camp in June 2016 through July 2016. There was a certain time
each day I would play basketball or football with the campers. I
would talk to the campers about staying on track in school, following
directions, and listening to their parents. I had fun getting to know
the campers by name and what their likes and dislikes were.

The
more challenging part of leading a group of students is the
disciplinary piece. Sometimes the campers would have behavioral
issues and I have to keep my emotions in check, stay calm and try to
get the camper to see what they did was wrong. Even today, I'll see
some campers in the community and they say hello. The positive impact
I've had on some of them is very satisfying. If I were to come back
to the summer camp in ten years, I think the campers I lead and
taught would be volunteering themselves. My mom says it makes a
difference when you stop, really listen and spend quality time with
someone.
By
volunteering in my community and serving the youth, families and
those in need I have been able to make a positive change in the world
by showing them that people really do care. Sometimes it is the big
smile on a parent's face, the handwritten thank you card received for
the donations or one of my former campers walking up to me in a store
to say hello and these kind acts let me know that I have made a
positive impact on someone else's life. This alone is worth my effort
and time in performing community service.