Name: Habeeb Salau
From: Allentown, PA
Grade: 10
School: Parkland High Schoole
Votes: 0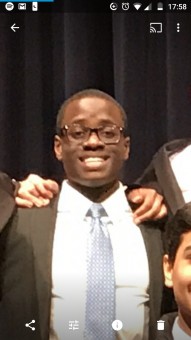 Service
is important to me because it is a way for me to recognize my
privilege. My parents worked hard to immigrate from Nigeria and set
up a higher quality of life for my siblings and me. Through visiting
my family members in Nigeria, I've seen first-hand the
disproportionate tools that I have at my disposal to succeed that
many in the world don't. Community service has given me an outlet
to use my privilege to help others.
For
example, as president of my school's Interact Club, I instituted a
monthly event called "Snack Pack." On a Wednesday after school,
my club packs snacks for students who are on free-lunch waivers and
we package them for delivery to ten Elementary and Middle Schools in
my region.
Moreover,
I have a strong conviction in the power of educating others.
Afterall, my parents' used their education to leave Nigeria and
come to the United States. Although I was privileged to have a tutor
for the SAT, many people in my community didn't have this
opportunity. After scoring well on my SAT, I set up a free weekly SAT
class for students in my community who couldn't afford it.
Finally,
after the summer of my ninth grade year, I had the opportunity of
studying Arabic in Egypt on an immersion program. After coming back,
I became a weekend teacher at my Mosque's Sunday School. Every
Sunday, I teach a class of Elementary School children Arabic. There's
an intrinsic drive that I get when I'm able to take one of my
students who is finally able to tell the difference between "jeem"
and "kha" (two difficult Arabic letters) and stumbles as they
read through their first sentence under my supervision.