Name: Jadyn Duncan
From: Great Falls, MT
Grade: High School Junior
School: University of Providence
Votes: 0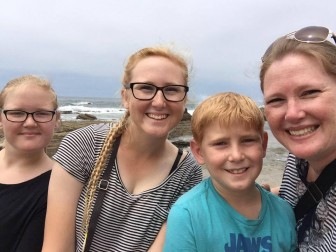 Hello,
my name is Jadyn Duncan and I am a freshman at the University of
Providence in Great Falls and I volunteer in my community as much as
I can. One area that makes me feel most helpful is helping the
homeless. I chose this area because this is the area that I am most
comfortable in it. Since I am a college student I try really hard to
help as often as I can to those that need it most but sometimes it is
a bit hard, but when I am back home, I help the homeless every week.
We as a youth group, try to make lunches every week for the homeless
and we usually spend two hours making over 100 lunches for the
homeless. At my church youth group we make lunches for the homeless
and we hand them out in person. There are many people out on the
streets that can not afford to eat and with the help of our, youth we
make a difference in these people's lives.
As a volunteer, I
try to follow my own morals and do something for other people that I
would want from people if I was in these homeless people's shoes.
When I volunteer, I make sure that everything is done nicely and
organized so that there is a system and so that there is no confusion
when we go out and give lunches to these people. What gives me the
most satisfaction, if seeing their faces when we give them the
lunches. These people do not get much in life, so seeing a smile on
their face gives me that satisfaction that I actually made a
difference in that person's life. I have learned that not everything
in the world is what it seems. THere are people that do not get the
same opportunities as you so take what you get and be glad that you
have the life that you have.
My interests are to
help people that need help that necessarily doesn't go with my career
goals. I am going to school for business and to be a sport marketer
so volunteering is not in my career field but it does make me feel
more full inside because of the reaction that I see when I do
volunteer. I see myself continuing to volunteer and to make a
difference. Forward looking to me just look forward to what life has
to offer. Not much as it does to the future but just look forward to
what good you could bring to other people. I seek to make the world a
place of laughter and kindness throughout and to make sure that
everyone gets the life that they deserve no matter what year it is. I
hope to see that my actions do make a difference and I hope your does
too.