Name: Lily Geilhausen
From: Lubbock , Texas
Grade: Sophomore
School: Frenship High School
Votes: 0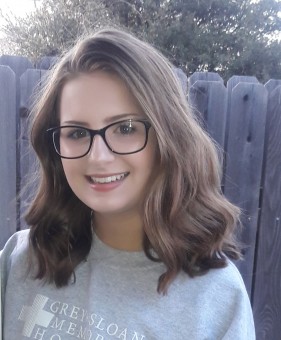 Working
with the Future
I
enter the classroom and immediately become greeted with the chatter
of a dozen children. I navigate my way around the toys that scatter
the floor and eventually sit down by a group of kids attempting to
build the largest castle in the world. I begin to help them stack
wooden blocks as a beaming four year old tells me about the princess
that lives in the castle they are constructing. Worship music begins
to float through the air cuing the children to clean up their
creations and simultaneously telling me it is time to teach. This is
how I have spent at least one Sunday morning a month for the past
four years. I volunteer as a Sunday school teacher for kids who are
four to five years old at Live Oak Community Church.

As
a volunteer, it is my duty to assist in teaching the lesson to the
kids, serve them snack, and help them create a craft that goes along
with what they learned that day. In addition, I am responsible for
ensuring the happiness and safety of the children that are
temporarily in my care. While they are in class I play pretend with
them and listen to their hilarious stories. At the end of the hour, I
make sure that they are getting picked up by the correct adult.
Working with kids is an absolute blast but sometimes things can get
pretty hectic. The biggest challenge is taking care of every
situation and person that needs attention at the same time. Even
though it can be tough sometimes, it is all so worth it.

Nothing
compares to the happiness that comes from seeing a kid finally share
a toy or initiate a prayer all by themselves. Teaching them about
compassion and faith then watching them put those concepts into
practice is amazing. I get to help kids grow not just in their faith
but also as a person. Around church, I still run into kids that I
taught a couple years ago. It is so great to hear about their lives
now and see how much more they have progressed as people. Being a
part of their growth is the biggest satisfaction of volunteering.

This
volunteer opportunity has taught me that all of your actions matter.
Kids are extremely observant, they notice everything you do and say.
Many times they even emulate what they survey. As a result, you have
to be extremely purposeful with your behavior around them. This
lesson has translated into my life outside of volunteering as I have
realized that I want my behavior to have a positive impact on
everyone that I come across.

I
am extremely grateful for the opportunity I have had to better my
community by helping the kids who are the future of it. I look
forward to continuing to prepare them for the moment when they step
away from their castles, out of the classroom, and into the world.