Name: Logan Ferrucci
From: New Castle, PA
Grade: 10th
School: Shenango High School
Votes: 20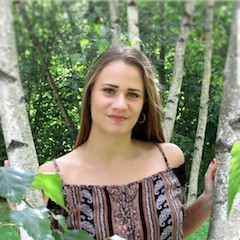 You
Can Affect Your Future

Today
most people do not realize that the community service and activities
that you participate in can have a great effect on your future. I
have chosen to volunteer in a multitude of organizations throughout
my church and school. These organizations include: Make-A-Wish,
Operation Christmas Child, SHINE, and Childcare provider at the
church. The main involvement with these different organizations all
pertain to working with children and young teenagers. I found my
identity with the passion that I have for caring for children almost
eight years ago in 2010. I usually provide childcare about once or
twice a week whether that be on a Sunday, Tuesday, or Thursday. The
other events that I volunteer with occur at certain times during the
duration of the year.
The
responsibilities that I have as a volunteer are all very similar.
Within Operation Christmas Child and providing childcare I have to
very attentive to the small children to make sure all of their needs
are meet. You also have to assist the younger children during
Operation Christmas Child to make sure that they are placing the
correct and right number of toys into the boxes. While doing so it is
imperative that you explain the reasoning behind the boxes.
Participating in Make-A-Wish I am responsible for setting up the
whole fundraiser, usually, show that is conducted with multiple acts.
We also run a bake sale during the show to help raise money for the
Make-A-Wish Foundation. During my time as a volunteer I have helped
grant 7 wishes. For the last activity SHINE which was established by
the Tim Tebow Foundation is a prom setup for disabled kids. I
volunteer as a greeter and on the red carpet, which helps get the
kids excited and ready to have a great night.
The
biggest challenge would definitely be working with hard children. It
becomes frustrating when the kids do not listen and do not
participate in the activity. But, you find another way for the kids
to participate in a way that make them comfortable. The largest
satisfaction would be seeing the impact that you make on the kids. It
is rewarding to see the kids excited whenever you come back to work
with them and when they remember you. I have learned more about the
quality of patience throughout the years, because there is no way
that you could do well with these services without patience.
Reaching
towards my future I hope to attain the degree of a BSN with the hopes
of working in a pediatric hospital. I think these activities are
"forward looking", because they have already given me some
insight on what I plan to do with my future. I hope to see a change
in older people's hearts by wanting to do the same by nourishing
the younger generation with care. In about ten years I think there
will be a larger want to help those indeed by creating an impact now.