Name: Kennedy Goudie
From: Kalamazoo, Michigan
Grade: Sophomore in HIgh School
School: Kalamazoo Central High School
Votes: 0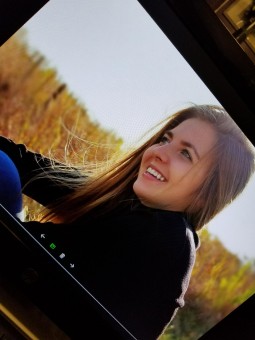 Kennedy
Goudie
10/20/17
Youth
Forward Scholarship 2017
Throughout the past 2 years of high school, I have been involved in our school's
National Honors Society. National Honors Society has pushed me to
venture out into the world of volunteering and to see a perspective
of the world that is less fortunate than myself. It has given me the
ability to help those people and to make a stand for them in my
community in a variety of ways.
Last year I was given the opportunity to volunteer for our school's
annual Stuff the Bus, which is a canned food drive that our National
Honor Society puts on in our community. I had also had the
opportunity to participate in taking the food that we collected to
Loaves and Fishes, and organization that takes the food that we
collected and separates it into groups and gives that food to people
in need, and I helped to unpack the food and separate it. I
volunteered for Stuff the Bus and Loaves and Fishes because it gave
me the opportunity to collect food for those people in need and to
also overall help to give back to my community in a positive way.
For my volunteering at Stuff the Bus and Loaves and Fishes, I was
volunteering for 7 hours on December 4th,
2016. My duties during my period of volunteering were to stand on the
bus and pile up the seats with food donated, carry bags to the bus,
and for Loaves and Fishes I carried bags off of the bus, and then
later helped separate the food into different bins.
Challenges that I faced as a volunteer were trying to get people to donate to
our cause and to explain to the donators that their donations of food
were going to a good cause and that they were making a positive
impact on the people living in their society. What gives me my
personal satisfaction during my volunteering experiences is the fact
that I am making a difference in someone's life. Although I do not
know the person that I am helping nor will ever meet the people that
I am helping, I know that I am changing their lives. Knowing that I
have the power to help feel the less fortunate people that live in
our world is such a satisfying feeling to achieve. I feel it in my
gut that I am doing an amazing thing for someone else.
Knowledge that I have gained from volunteering experiences is the importance of
giving back to your community and to make time to help others.
Whether I know who I am helping or not. My volunteer service does
make a difference in people's lives and being open to volunteering
is important. It is important to take a break from life sometimes and
to stop and think about the lives of others in our community. Taking
a moment to give back, can be the best feeling that I can experience.