Name: Adanne Uma
From: Randallstown, Maryland
Grade: 10th grade
School: New Town High School
Votes: 0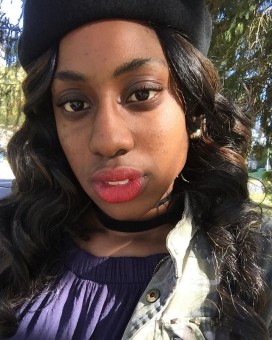 Youth Forward Scholarship Essay
By:
Adanne J Uma

I have chosen to volunteer with my high school's PTSA! The PTSA
stands for the parent, teacher, student, association. The program
helps families along with students receive information and updates of
the school's plans throughout my senior year of 2017-2018. We are
also updated for school events, field trips, and fundraisers. School
events include; alumni games, or proms and knowing the schedule or
locations. Field trips to visit colleges and help students make
decisions on where to go after graduating. Fundraisers to raise money
for the prom by having bake sales or selling chocolate bars. I chose
the PTSA because I wish to be active within my school environment,
participate in the entertainment, and raise awareness to help our
community. I have spent my junior and senior years (two years) and
around thirty hours a month working with the PTSA.
The biggest challenge is trying to get more students involved. Some
students do not have school spirit meaning they would not care or
show school pride. We have pep rallies and set up side stands in the
cafeteria to spread awareness but it can be very difficult to get the
word out! That is why we cannot give up and have to keep pushing
forward. The most satisfaction I have obtained from working with the
PTSA is the fact that the parents and teachers remain in a positive
relationship and help each other in various ways constantly improving
the conditions of the school day it's very effective and the
outcome is raising lots of money and successfully having many
activities. I have learned how to be organized, responsible, and how
to be an effective leader. I know how to conduct projects and
negotiate with others. I'm organized by keeping dates and having
better memorization. I am responsible I am disciplined to know my
tasks and put in lots of effort. When looking towards the near future
I want to take part in more organization and help my town community
or my school community. In university it will be a new atmosphere and
that means it's time for me to engage in lending a helping hand.
In the next ten years I hope to gain significant connections with
organization and charities. I want to help more people who are less
fortunate or at least those who need guidance. The PTSA teaches me to
care for others and be optimistic always. Staying optimistic is very
important it helps you prosper everyday life with motivation. In
those particular next ten years I hope to still be that positive
person always making people smile. "Looking forward" truly means
waking up every morning and knowing you've have lives out there
that you're excited to change and make better. I have career goals of
one day becoming a journalist. I hope to broadcast my voice and make
speeches so many can understand the situations going on in our
society. Everyone will be on the same pace and we'll all strategize
ways of changing those negative factors.