Name: Rebecca Cwiek
From: Allen Park, MI
Grade: Senior
School: Cabrini High School
Votes: 0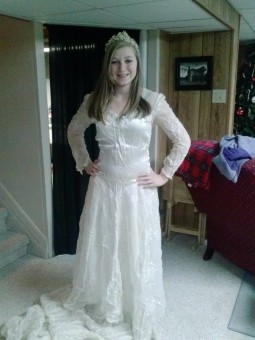 Volunteering is a great work of service that will leave a person with a changed
heart. I have volunteered in my parishes youth group that helps many
different groups of people. I chose this area because I like being
involved in groups getting to help widely diverse groups of
individuals. I volunteer at least four to six hours a month
participating in many different activities that help many different
groups of people. My responsibilities as a volunteer are to use my
resources to help those who may not have the money, time or
youthfulness to help get what is needed for them. My biggest
challenge as a volunteer is not being able to help everyone and not
giving up more of my time since I also participate in other
extracurricular activities such as sports. Seeing smiles on the
homeless' faces after preparing them for the winter that is
approaching with food and sleeping bags, or hearing from the veterans
after I have just packed candy away in bags, or making tie blankets
for the kids at the children's hospital is what satisfies me the
most after volunteering. I believed helping the homeless in person
was scary, but once I helped them they smiled. I realized they are
just normal people in need. One of my interests is writing and by
volunteering I can write about the experiences I face and spread them
to the society around me to possibly get more people to help these
same groups. Looking forward, I hope to increase the number of those
who help so the number of needy decreases. If more people help
provide for the homeless; hopefully, one day the homelessness rates
will drop. Forward looking to me means what the volunteering will
someday look like and what the outcome of the area will look like.
When I volunteer for the homeless, I hope that someday they will not
be outside begging for money or food. I hope that they will all get
sustainable jobs that will hold their life together. When I help the
veterans, I hope that I bring a smile when they eat the candy I
packed for them or smile at the cards I made for them to put a little
joy in their world or even day. When I help the children at the
hospital, I hope to make a kid warm with the blankets I made for them
and to put a little color into the boring, old hospital room. Since I
give to the homeless every year, in years to come I do think that my
giving to them would have made a difference whether it be a dramatic
difference or a slight change. I hope the veterans who read my cards
will remember that for the rest of their lives and in years to come
would look at the card and smile more and get motivated to help
someone else's day. I hope the children will smile every time they
look at the blanket I made them and will get up from the hospital bed
and go home with it. To volunteer means to give up free time to help
someone who does not have the privileges like many people today have
that do not put them to use for good reasons.