Name: Julianne Brown
From: Audubon, New Jersey
Grade: 12
School: Audubon High School
Votes: 9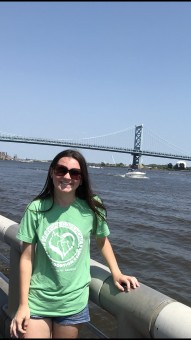 Freshman
year of high school, my history teacher asked the class, "What do
you think it means to make a difference in the world?" One boy who
wanted to be an engineer said, "Inventing something important."
Another girl guessed finding the cure to cancer. A handful of people
offered similar responses, but my teacher just shook his head.
"You're thinking too big," he said. He revealed that making a
difference in the world is as simple as holding a door for someone or
smiling at someone.
My
teacher taught me to start simple when it came to making a
difference, so I started volunteering in my school and community from
anywhere between 2-7 hours a month. I became co-president of National
Honor Society, a leadership position that required hours of
dedication and taught me to take initiative, participated in Project
Memorial, which honors local veterans, helped out at local animal
shelters to care for old cats, gave tours of the school to new
students in Teens 2 Teens, collected warm clothes for a homeless
outreach program called Bare Necessities, decorated cards for
hospitalized children, helped clean up memorial gardens, ran multiple
Alex's Lemonade Stands, and participated in walks to fund research
for diseases like breast cancer and Alzheimer's.
There
are times when my schedule becomes so busy it's overwhelming, and
it's hard to fit in volunteering. In the end, though, it doesn't
matter that I had to stay up late, wake up early, or run around. What
really matters is seeing the genuine smiles of those I help. My
volunteer work can keep people warm during the frigid winters for
years to come or keep them fed on Thanksgiving when they have nowhere
to go for dinner. What I do could even be the difference between life
and death for children at the hospital or cancer patients. Knowing
I'm making a positive impact on the world keeps me motivated to do
as much good as I possibly can.
In
the future, I plan to go into communications, media, and film. For a
long time I wasn't sure what field I wanted to go into, but I knew
for sure I wanted a career I could use to continue to make a positive
impact on the world. Communications will allow me to spread the word
of important issues and help change the world for the better. I know
I have changed people's lives for the better and that my volunteer
work will stay with them and me forever. I'm excited to go into a
career that will allow me to continue my volunteer work for the rest
of my life and help me make my impact on the world.