Name: Jamesen Kimberly Ward
From: Shoreline, Washington
Grade: 12
School: King's High School
Votes: 0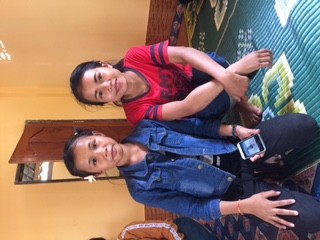 It
is estimated that between 200,000 and 450,000 people are trafficked
annually and about 90% of trafficking takes place at the Thai border
where majority of the victims are between the age of 12 and 18. These
facts and statistics were disgusting and frankly unimaginable to me
until I was able to put a face and individual to these numbers. After
spending a few days with Lao girls, my own age and younger, I had the
opportunity to go stand at the border between Thailand and Laos.
Laos
traditional clothing is very modest, the culture is not flashy in any
way: long skirts, long sleeves. I had been there for no more than ten
minutes when I saw a girl walking towards the bathroom, dressed in
traditional Lao clothing, but rolling a suit case. Minutes later, she
exited the building wearing a short skirt, tight shirt, and tall
uncomfortable heels with bright red lip stick. I knew why this girl,
no older than me was crossing the border. These statistics now become
a reality to me. The dissonance I felt was overwhelming. While I
would able to catch a flight home the next day, she was crossing into
a reality that I will never know.
I
had spent a few days with the most spirited, welcoming, and creative
people in the village of Thaiyai. I saw my closest friend, Coinsee's
face on the woman walking across the border. Coinsee was my first
friend in Laos. We bonded over trying to exchange words in each
other's language, but of course it always ended in each other
laughing at our mispronunciations. She showed me her garden filled
with cucumbers that she was able to grow from the money donated from
this banquet last year, she walked me to her friend's house where
she sewed me a wallet from her machine that was made possible because
of supporters. And in her temple, she danced and sang for me because
she told me that one day, when she grew up, she wanted to become a
famous Thai singer, not for the fame, but to use the money made to
help her family.
Her
humanity shook me. I was conditioned to see kids in a third world
country as helpless, with dirt on their faces. While this may be true
to an extent, I saw the image of God in Coinsee, exposing my
ignorance. From the beauty in Thaiya and the richness found in
Coinsee, I learned more on how to serve rather than to fix.
In
Thaiya, the elders planned a ceremony to send us off and bless us.
And one of the traditions was to make bracelets and tie them on your
wrist and as you do so they would say a blessing in Lao. I was
sitting there, with the kids tying them on our wrist and the girls I
had become so close with all began to cry. All I could think about
was how backwards it was, I should be blessing Coinsee because she
taught me so much and welcomed me into her home. Even as I sit here,
writing to you Coinsee's beauty and courage overwhelm me. What also
devastates me is thinking about the obstacles my friend will face as
she grows in her adolescence. I don't even want to imagine what
could happen. I am encouraged to take what I have learned from this
experience and share it with the people here at home because her
story deserved to be shared.
After
this experience I volunteered at a fostering and adopting agency and
will be helping at World Concern this winter, spending ten hours a
week brainstorming new ways to ensure girls like Coinsee will not
have to end up crossing the border into a reality of sex-trafficking.
The biggest challenge is figuring out how to use my privilege and
power to serve the marginalized and oppressed but knowing these small
steps in volunteering at these organizations can help individuals
motivates me to continue my work. These volunteer opportunities have
now become a passion. I look forward to the future where my every day
occupation is making a difference.