Name: Wyatt O. Beane
From: Frederick, Maryland
Grade: 10th in 2017-18 but currently a junior
School: Governor Thomas Johnson High School
Votes: 0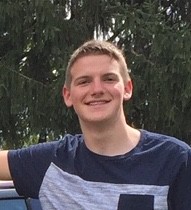 Bingo
with Mr. Stephen Wyatt
Beane
11/1/18
Throughout
my youth, I have been fortunate to participate in many types of
community service. One activity has really made an impression on me,
and it's one that I feel should receive much more attention;
Nursing Home Outreach.
Many
patients in nursing facilities are there temporarily as they undergo
rehabilitation. These types of patients usually enjoy many visitors
and know that they'll only be away from home for a short time.
Unfortunately, however, the majority of the residents have medical
issues that make it impossible to continue living in their homes.
They will remain at the facility indefinitely, and visitors become
much less frequent as the years go by.
I
began visiting our local nursing home when I was in the sixth grade
as part of a youth group outreach. Our monthly companionship efforts
are generally focused on the "Memory Care Unit", where they enjoy
playing Bingo in the community room for the chance to win candy bars
and to help their minds stay sharp.
I
was shy when I first started attending. Like most kids, I was
uncomfortable speaking with people I didn't know, let alone people
who sometimes could not communicate clearly. Thankfully, I have
gotten much better at engaging in conversation and determining what I
can to help the residents participate. Some are able to play by
themselves, but most need help recognizing the numbers or placing
their chips on the boards due to unsteady hands.

Memory
Care Unit residents are special because they often have little
recollection of their lives and the people who are important to them.
That's why it is really humbling to see their eyes light up when we
arrive on Thursday evenings for a night of fun.
One
particular resident, Mr. Stephen, really made an impression on me. He
was about 85 years old, in a wheelchair, and his passion was
painting. His clothes and shoes would always be covered in speckles
of paint, and he would wear crazy hats to Bingo because he was "going
out". You could tell he was in pain (his legs "didn't work",
and he had trouble speaking) but if you asked him how he was doing,
he would always say, "I'm Fabulous!". When he'd win at Bingo,
he would always give his candy to someone who had not won yet. He was
so fun to be around. Unfortunately, Mr. Stephen passed away last
year, but his paintings are hanging throughout the hallways, so I am
reminded of him each time I am there.
I
am currently a high school junior and have been serving as the teen
leader of this outreach for several years. I'm training my younger
sister to lead as well, as I want to be sure this activity continues
when I go to college. The residents may not remember our names, but
the fact that they associate our arrival with something enjoyable is
the best feeling ever. I plan on making time for this activity for as
long as I am able.