Name: Rachel Halapchuk
From: Springdale, PA
Grade: 11
School: Springdale High School
Votes: 73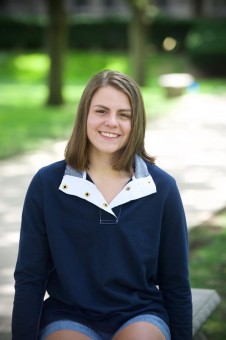 Some of my
fondest memories as a child are at my birthday parties, being able to
celebrate with my friends and family. It may seem superficial to
some, but what they don't realize is that others do not always have
the opportunity to enjoy this special occasion with their loved ones.
In the eighth grade, I was lucky enough to meet a woman, named Megs
Yunn, who taught me just how important birthdays are.
At the time,
Megs had recently created a nonprofit organization, called Beverly's
Birthdays, with a goal to help children experiencing homelessness and
families in need. She told me what inspired her to form the
organization. The story was about a girl, named Beverly, whose family
was impoverished and was unable to celebrate her birthday. Megs vowed
to help children like Beverly feel special by throwing birthday
parties at family centers and homeless shelters, where they spent
most of their time. I started my volunteer work with her and the
organization in small ways.
I began by
making treat bags and cupcakes for the parties and after that, I
began to actually help at them too. Today, I not only do those
things, but I create my own fundraisers, such as a Harry Potter
Festival and Pancake Breakfast, in order to raise over $7,000 for the
organization. I not only raise money for them, but I set up and
manage tables and information sessions in order to spread awareness.
In recent years
I have been able to spend more time at the parties and understand
just how fortunate I am to learn from these kids. Learning some of
the adversities that they have faced makes me truly appreciate what I
have, but also inspires me to do more. At this point, I have
volunteered over 250 hours of service to this worthy organization,
but I feel that the time I have spent helping these families is small
in comparison to what they have taught me. This gives me great
satisfaction knowing that not only that I'm helping them, but they
are also helping me become a better person.
I truly feel
that I am making a difference in the lives of these children and
their families, and I want to continue to do more. It would make me
proud to see how these children are doing in the future, and how this
organization, hopefully, made a positive impact on them. I would also
hope to, one day find, my own inspiration to help someone in need and
make a positive impact in the future. Although I may not pursue a
life in a nonprofit business, I hope to help others through my future
career or continue to volunteer with organizations like Beverly's
Birthdays. This organization and these people have helped me in so
many ways and I hope that in the future I can say that I created an
impact as great as theirs was on me.