Name: Camryn Johnson
From: New Orleans, LA
Grade: Sophomore
School: Dillard University
Votes: 0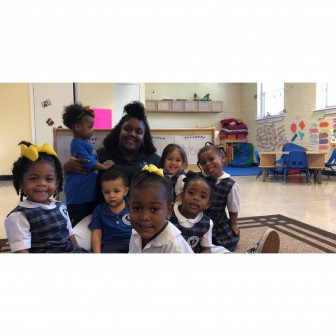 Children
are the World
A
wise man once said, "We cannot build the future for our youth,but
we can build our youth for the future." That wise man was Franklin
D Roosevelt. I strongly agree with his quote and that is why
volunteer at an early childhood and development center. I chose to
volunteer at this center because I absolutely love children. I am a
strong believer that you have to touch their lives at an early age in
order to make them great. I volunteer at this center 41 hours a week,
since August of 2018. As a volunteer, my responsibilities are to
teach children how to write,their numbers,their alphabet,feed them at
lunch time,teach then their colors,how to spell and so much more.The
biggest challenge as a volunteer is sometimes being able to keep
students,growing 18 months to 5 year old children engaged. When I say
engaged, I mean that because they are growing, but as Franklin D.
Roosevelt said,"… we can build out youth for the future." I
love accepting the challenge because it satisfies me in knowing that
children are learning because of me, children are happy to come to
class because of me. They love yelling "Ms.Camryn,remember when you
taught me…" or "Ms.Camryn, I can spell yellow."
My
interests and career goals are in alignment with my volunteer focus
because I would like to because a early education teacher graduating
college. I feel that volunteering at the center gives me the "feel"
of what being a teacher feels like. Looking towards the future, I
see my activities forward looking because "forward looking" is
progressing, and everyday the children of the classroom are
progressing into becoming the child of the future,of the world and
most of all being the best they can be. I would like to foster in the
world via my volunteering is to protect and love children, because
they look up to you is ways you could never imagine. Children are
watching our every move and wanting to be like us when we grow up.
When children tell me that, I always respond by saying "No, I want
you to be better than me."
If
I was to come back in ten,twenty, or thirty years from now, I
strongly believe that my volunteer activities would have made a
difference.I have 400+ hours of community service from being in
college, but this particular volunteering activity is special and
dear to my heart. I believe the difference will be made and known
within these children because I have instilled and taught them so
much in this school year. Everyday a child shocks me, so I can only
imagine what will happen in twenty years from now. I know for sure
that these small group of students will be the difference and spread
the love,joy and information into the world as they grow up and go on
into their lives.