Name: Erica Grace Mosby
From: Germantown, Tennessee
Grade: 11th
School: Germantown High School
Votes: 2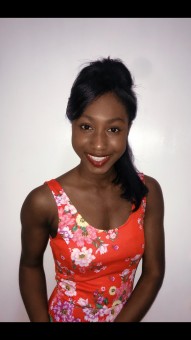 Children Bring Out the Best in Me
In the 3 year olds' nursey at the Life Church of Memphis: Houston
Levee, I am a teacher's assistant. I assist my best friend, Mariah
West who is the teacher of our classroom. While the children's
parents are in the Sunday 11:15 A.M. church service listening to our
pastor preach, Mariah, 5 other volunteers, and I care for an average
of 20 children every Sunday for about 2 hours. We teach the children
a Bible lesson, give them snacks, and help them make a craft that
pertains to that Sunday's Bible lesson. By serving in the 3 year
olds' nursery, I get the amazing opportunity every weekend to pour
and sow into these children's lives. I get the privilege of
teaching the children, playing with them, praying for them, loving
them, encouraging them, helping them decipher between right and
wrong, or providing the children with life lessons, like the
importance of a "thank you" after I provide them with a snack. I
get to experience the dynamics of helping children grow into the best
possible person that he or she can be all within an hour and a half
before the service ends and their parents pick them up. My hands,
they figuratively and literally touch each child. I serve the
children in the literal sense because some 3 year olds miss their
parents once they are dropped off at class, and those children just
need to experience the same love that their parent would give by
simply being held and caressed. I serve the children in the
figurative sense because some children come to class in a bad mood
because of something that happened at home, and when they get to
church the only thing that those children need to hear are words of
affirmation and that their problems matter and that I care and am
able to listen if they need to share what is on their little hearts.
I have been serving in the 3 year olds' nursery since I was 10
years old, and I would not trade my years of experience for the
world. I cannot even begin to count how many children's lives that
I have touched.

            The children have taught me just as much as I teach them. I have learned
how to be empathetic. I realized that children can become upset for
some of the silliest reasons, but I also have learned to insert
myself into the size 12 shoes of these children. I learned how to
relate to the children and get on their level, thus allowing them to
be reassured that I understand their needs and care. Occasionally, it
is challenging for me to discipline the children for throwing temper
tantrums over their silly issues, but it teaches me patience and
reveals the importance of parenting to me. Teaching in the 3 year
olds' nursery was and still is one of best things that I have ever
experienced.