Name: Kaya Karibi-Whyte
From: Englewood, New Jersey
Grade: 12
School: Dwight Morrow High School
Votes: 0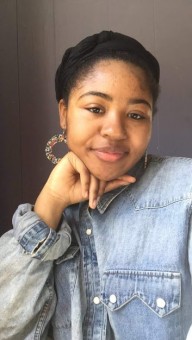 Throughout
high school and into my gap year I have volunteered on political
campaigns. I think that it is extremely important that those who are
underrepresented in government (young people, people of color, poor
people, and more) utilize their voices by voting and getting involved
in the political process, so I have always been excited to join the
campaigns of politicians who feel the same way. My experience on Jim
Johnson's gubernatorial campaign was one of the most taxing yet
rewarding experiences of my life. I spent well over 100 hours in 3
months canvassing, phone banking, and managing volunteers, immensely
improving my leadership skills. Before starting the campaign, I was
reluctant to strike up conversations with strangers, especially adult
strangers who often didn't want to talk to the teenage girl on
their doorstep or calling them on the phone. It caused me a lot of
discomfort, especially because I didn't want to bother people.
After knocking on hundreds of strangers' doors and cold calling
what seemed like an infinite amount of numbers, I became desensitized
to that discomfort. I was able to speak more confidently with
strangers and to even convince many people to take time out of their
day to help an underdog candidate. I was quickly promoted to Staging
Location Director (SLD). As the SLD for my county, I was usually in
charge of people who were significantly older than me. I had to fight
against the mentality that as a teenager, I shouldn't have
authority over adults. I noticed myself allowing adult volunteers to
talk down to me and saw that the people who spoke down to me often
did things incorrectly, so I was forced to overcome the feeling that
I was being rude to ensure the best results for the campaign.
I
was able to do those things and more because I really believed– and
continue to believe– that individuals can make a difference and that
political and social engagement is the best way to make positive
change. Jim Johnson's progressive platform and earnest passion for
the issues facing New Jersey really spoke to me and motivated me to
overcome any anxiety and do my part to create change. Although Jim
Johnson lost in the primaries, he did better than expected, and I'm
proud to say that I was able to help him do that. Since Johnson lost,
many would say that I did not make a difference, but I disagree. The
most important and most lasting part of my job as a volunteer was
voter outreach. I did not just talk to people about the candidate, we
talked about the issues that were important to them and about the
importance of voting. Letting people know that their voices matter is
necessary for a functional democracy, and if I encouraged just one
person to get out and vote for the first time—for anyone—I feel
that I accomplished something. I contributed to a larger culture of
political involvement, which will always be important.