Name: Brandon Foskett
From: Spring, TX
Grade: 11
School: Foskett
Votes: 0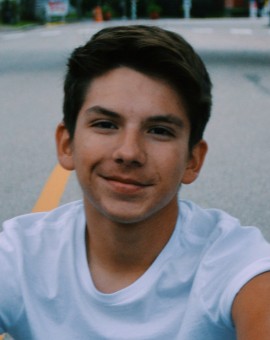 Flags
With Pride
In
my high school band program, bandsmen are given the frequent
opportunity to take on volunteerism by distributing American flags
throughout surrounding neighborhoods as part of our Flags
With Pride program
fundraiser. Volunteer opportunities are given six times a year for
every Labor Day, Patriot's Day, Veteran's Day, President's Day,
Memorial Day, and Fourth of July. Every opportunity consists of a
flag distribution and a flag retrieval
on the weekends preceding and following every holiday. Both parts of
the job can accumulate anywhere from two to eight hours total
depending on the number of flag routes one chooses. Throughout my
four years in high school, I have volunteered for every single flag
route holiday possible, racking up an approximate 75 hours of
volunteer work. Although a seemingly simple and straightforward task,
the tremendous effects of this work and the impact it truly has on
our community members was only made aware to me this past summer.
One
afternoon, I hopped into my friend's car, as we were off to
distribute two routes, something near 50 flags, in the neighborhood
of Oak Ridge North. After about an hour of scratching through various
types of grasses, digging through mud, and hammering rebar into our
neighbors' yards, we were confronted by an elderly man who had
stopped mowing his lawn to help us set up his flag. The man
introduced himself to us both and told us how thankful he was that we
were here to give him his flag. After asking us we wanted water, to
which we both declined, he began telling us about his love for our
American flag program. He told us that him and his brother were both
retired US soldiers who fought in both World War II and Vietnam.
Becoming impassioned, he explained to us how his brother was one of
the soldiers in the famous Raising
the Flag on Iwo Jima
photo series, a significant icon of American patriotism photographed
in 1945 during the Battle of Iwo Jima in Japan. Illustrating the
depth of his patriotism and the value he held in flying an American
flag, he then told us that his brother passed away only a few years
ago; and our flag was his way of honoring both his brother and our
great country.

Finishing distributing the flag
route that day, I couldn't help but feel proud of the way my band's
simple volunteer program touched the lives of our community,
something I had never known to that profoundness. Although the work
often impedes as a huge commitment of time, I have gained great
satisfaction in knowing that it serves as respect to our nation's
soldiers. As I seek to become my own band director one day, I hope to
establish a similar program for my students to take part in. In a
world growing farther away from past wars, it is more important than
ever to remember the lives in which ours are made possible.