Name: Grace Stefania Radosevich
From: Blackey, Kentucky
Grade: Junior in Highschool
School: Homeschool
Votes: 94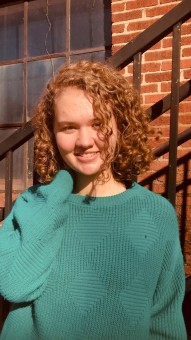 Getting
a meal on the table can be hard for anyone. Running short on time
and forgetting to run to the grocery store are factors that make
eating dinner hard. Being unable to buy the food for dinner make
getting a meal on the table impossible for some people. I am
grateful to be a part of a ministry that helps prevent people from
missing a meal. Food closet week is busy a week for me and has
been for four years. My family runs a multifaceted community center
and being involved in the food closet is one ministry I enjoy doing
normally. One week out of the month we order, pack, and distribute
food boxes to families in the community who need an extra hand. Over
the past year, I have been given the responsibility to order the food
and give direction to what is supposed to go in each of the boxes. On
a single afternoon, we will hand them out at two different sights and
also give them out at our own center. One of the biggest
challenges for me is distributing the boxes. Working behind the
scenes is easier for me. It is physically draining but I have to
work hard to be around people. It is natural for me to stay quiet
and in a corner. By handing out food boxes and watching my dad, I
have learned to step out and get to know the nice people we are able
to help. Seeing people get food they need and having a friendship
with them is the biggest satisfaction I can possibly have. I am
grateful to be in this group of people and hear about how their
neighbors, mom, or kids are doing. The biggest thing I have
learned from my volunteer position is that people matter. My dad has
taught me this, not by telling it but living it. When my dad helps
people, he not only gives them food they need, but he takes time to
develop relationships them. To know a person, you need to know their
struggles, values, and be able to joke around with them but not
neglect their physical needs. My goal is to become a music
therapist, and it is important to know how to develop relationships
and that developing relationships takes time. Forward
looking is not focusing on the present effect of what you are doing
but also what effect it may have in the future. Meeting people's
hunger is an immediate need but meeting their emotional or spiritual
needs takes time. The change I want to foster in the world is
that if you have the means to meet someone's hunger, then meet that
need. I hope in twenty years I will have inspired others to give
their time or resources to help make someone else's dinner.