Name: Arlenys Gonzalez Gonzalez
From: PHOENIX, AZ
Grade: College Freshman
School: Arizona State University
Votes: 0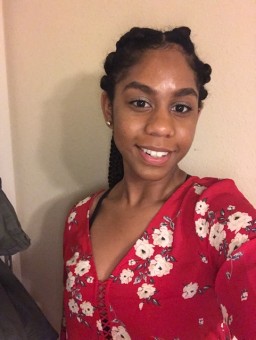 Throughout
my high school career, particularly the last three, I was extremely
interested in finding ways in which I could leave a positive impact
on my community's environment. After reading articles about the
decaying health of our planet and the lack of political commitment to
implement environmental programs in my U.S. History class, I sought
after a club on campus, called E.A.R.T.H. Club, dedicated to
practicing environment friendly habits such as recycling, composting,
and disseminating information to the students and staff about keeping
our campus clean. At the beginning, my involvement with the club was
minimal due to family issues and homework load from the various
honors classes occupying my schedule; however, I didn't let those
two issues set me back from participating with the club. I spent two
hours a week volunteering with the club to pick up recyclables around
the school.
During
my junior, I began to get more involved since I had more time
afterschool and managed my work well enough for it to not interfere
with days I had club activities. My junior year was also the year in
which I became the club Secretary. As the Secretary, I was required
to attend officer meetings on Mondays for an hour every week in order
to brainstorm fundraising ideas and discuss details for upcoming club
activities. As an officer, I was also required to attend regular
meetings on Thursdays and Fridays for recycling and gardening,
respectively, which added another three to four hours of volunteering
a week. As time went on and the end of my senior year approached
fast, I found myself reflecting about my time as a volunteer and
officer for E.A.R.T.H. Club. The most satisfying aspect of being a
volunteer for the club was being able to gather other students who
shared a similar passion for wanting to make the community
environment friendly, and I learned the importance of teamwork and
responsibility as an officer and club volunteer.
Sadly,
my volunteer focus does not correlate directly to my career goals,
but I still have an interest in environmentalism and I intend to use
the skills I garnered while being a volunteer in my career. As for my
definition of "forward looking", I believe that it means to live
in the present while one thinks about their next steps in life.
Currently, I'm focused on my studies as a psychology major and plan
to volunteer with an organization to help children who were victims
of abuse. The change I seek to foster, in terms of my future
volunteer plans, is that I want to help as many children cope with
the painful experiences they endured and attempt to make their lives
happier, even if it's just for several minutes. If I were to come
back years later, I hope my volunteer service made in change in a
child's life by relieving their pain a little bit and showing them
all the positive aspects of life.