Name: Paige Halverson
From: Dallas , TX
Grade: 11th
School: The Hockaday School
Votes: 0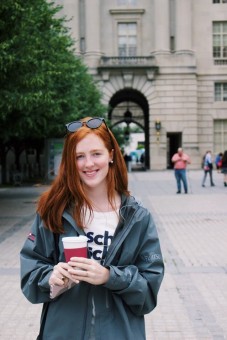 A
significant part of my character, how I interact with my community
and more importantly, who
I am as a person, has been my lifelong dedication towards service and
teamwork
through my commitment as a Girl Scout.
An
innovator, a leader, a team
player:
I strive towards leading a life of courage, a dedication to improving
the lives of others and perhaps most importantly, a devotion towards
unity
within my own Girl Scout community and beyond.
Always
inviting an opportunity to serve and collaborate with others, I was
fortunate enough to work with at-risk girls by teaching a healthy,
kid-friendly cooking class through my Silver
Award, contributing
over 80 hours in total.
Likewise, a year later, I jumped at the opportunity to organize
another healthy eating and dental health workshop through my Gold
Award
with the same girls I had previously taught, finishing the project
with around 180 hours served.
Contrary
to popular belief, being a Girl Scout doesn't just mean ruining
people's January diet, mercilessly chasing down customers at
grocery store entrances or blinding onlookers with impressive
pin-embellished sashes… This part of my life has not been
easy, nor has it been something I could achieve with effortless
talent or a predisposition towards success. Through
failures and difficulties along the course of my project – whether
working with Mama Mixin' to create a camp curriculum that suits all
kids or managing scheduling to ensure each class runs like clockwork
– I learned to adapt…
to listen to the needs of others as well as exuding confidence in my
own leadership. These lessons of empowerment, humility and
flexibility are attributes I carry with me today.
Ultimately,
these rewarding experiences to give back to my community left me with
one of my most cherished lessons on life: the importance of
cooperation in a team-environment and how dedicating oneself as a
thoughtful, contributive team-member can make a substantial
difference in the success of all.

Success
is achieved through a dedication to one's passions and a
flexibility to collaborate with like-minded thinkers, as well as
those who hold different viewpoints or beliefs. Therefore, I am
confident we
– the females of America – will strive towards shaping a future
in this image.
Together
we are the ground-breakers, the game-changers and innovators in our
community. Let's rise.