Name: Gelaya Hutchings
From: Glen Burnie, Maryland
Grade: 12th
School: Old Mill High School
Votes: 0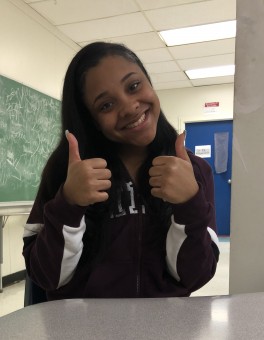 Gelaya Hutchings
December 17, 2018
Giving
Back to The Community
I started volunteering to help others when I was about 17 years old.
Volunteering has opened so many opportunities and new experience for
me, even helping me figure out what I want to do for a living. I
volunteered at my local hospital near my house, once every month the
hospital feeds the homeless. I still attend the hospital every once a
month to feed the homeless. During the time that I am there to help,
my job is to help setup plates, hand them out, and clean up. The hand
out starts at about 8am-4pm, overall, I would say that I have put up
to 90 hours into giving back to the homeless this year. Giving back
to the homeless was and still is a great experience, helping the
homeless has not only made me view my living situation differently
but it has also help provide a sense of purpose to giving back to
people in need.
I have also gotten involved with volunteering for a nursing home
that my grandmother works at, which helped me find my interest in
wanting to become a nurse. During the summer time that I spent at the
nursing home called Genesis Healthcare Service, I would help with
activities such as cooking, gardening, playing games, and chatting
with the residents. Being able to Social with the residents and
people who worked there helped me increase my social and relationship
skills, giving me an opportunity to practice and develop my social
skills since I was a shy person. Now I am momentum, branching out and
making more friends and contact because of the nursing home. Not only
did volunteering for the nursing home help me built up my social
skills but it also helped me find my job of interest, because of me
helping cook at the nursing home I now work inside of the kitchen of
the same nursing home that I volunteered at as a diet aid. I've
spent 63 hours working with the nursing.
Since my 9th grade year, I have been volunteering to
American Red Cross to donate my blood through the National Honors
Society at my school. Thought my 4 attempts of donating, I've
successfully donated blood 3 times due to me having low iron. Which
was a challenge for me throughout the process, having to eat and
drink to level out my iron. I love volunteering for this position so
much that I volunteer to schedule my own appointment to donate blood
at my local hospital since I am O+, meaning that anybody can have my
blood which is a great advantage for me being able to know that I am
saving someone else's life. I Wish that other people would hope to
donate, to help save a life since it is such an easy process.
Throughout my time of volunteering, I've learnt so much from
learning how to be organized to enjoying being around people. Having
to experience people in so many different situations has helped me
accomplish and learn how to learn love myself and my life style
because I am very blessed, to be able to give back to people in need.
In the future I plan on attending a college to major in nursing, to
help cure and prevent illnesses.
I would like to hope in 10 to 15 years from now that my volunteer
activities have had an impact, hoping to have made a change if not I
know that it has made a big impact on me as a person. Making me more
wise and grateful for the things that has been given to me in life,
with the different faces and places that I got to experience through
volunteering it has changed my life mentally and physically for the
better. I am very thankful for the opportunity that I was able to
volunteer, and I hope to be able to experience more opportunities
like this throughout my years of maturing, hoping to have inspire
others as well.