Name: Aaron Jess Lowe
From: Oakdale, CA
Grade: junior
School: Oakdale High School
Votes: 0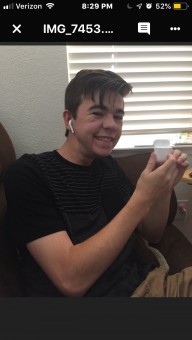 Youth
Forward Scholarship Essay
My
commitment to making a positive contribution to my small town of
Oakdale is clear. Since junior high I have volunteered with the
Oakdale Rescue Mission. Because of a rise in the homeless population
in my town, I felt it was the right thing to do. I have assisted
with preparing and serving food to the needy of our community.
Additionally, I have been a member of two service organizations at my
high school: Interact Club, associated with the Rotary Club and the
"S" club, associated with Soroptimist International. For the
past three years I have volunteered time to help with community block
parties, charitable benefit dinners, clothing drives, and maintenance
of our community garden. This year I have taken on a leadership role
with the S-club. In addition, for several years I have participated
in a community clean up event called "Love Oakdale,"a county-wide
program of community service dates every spring and fall. As a
volunteer at these events I have picked up trash, helped with
maintenance work at schools, cleaned up parks, completed odd jobs for
lower income residents of a mobile home park, revitalized a community
garden, and put on a small carnival for the children of a needy
neighborhood. Another way I give back to my community is through my
involvement in our Oakdale Drama Club. This year I am the club
treasurer. Club officers volunteer our time to organize and plan
events and productions. Each year we put on an event called "Love
Theatre" modeled after "Love Oakdale." This is a day of
cleaning up the theatre at our high school. A final way I have
demonstrated my commitment to making my community a better place is
by volunteering with our local American Cancer Society's" Relay
for Life". For several years I have raised money, walked the
track, and worked at fundraising booths. Oakdale has been a great
place to grow up, and as I have grown older I see how important it is
for me to contribute to making it a great place for future
generations. My world view has changed as a result of my community
service. Seeing my fellow residents volunteer their time and come
together to work hard to make our town a better place, has been very
encouraging to me. It has helped form my character and commitment to
being a contributing member of my community, my country, and the
world as a whole. In conclusion, I believe that giving back to our
communities is the pathway to a healthy and happy life for all.