Name: Paul Mbugua
From: St. Louis, MO
Grade: college freshman
School: St. Louis College of Pharmacy
Votes: 0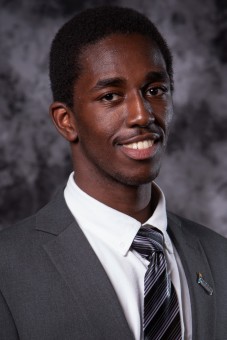 I
volunteer in Barnes Jewish Hospital in St. Louis because in a
healthcare setting, I can be a comfort to patients and their families
in a time when they are feeling most stressed. I serve in the
hospital for four to five hours per week, collecting data about staff
interactions with patients, or in the recovery room for outpatient
surgery, I offer the patients something to eat or drink, keep
blankets warm, and take patients down to the hospital entrance when
they are ready to go home. For the staff, I restock gloves, bring
snacks upstairs from the cafeteria, and remove linens after someone
is discharged so that there is space for a new patient. The greatest
challenge is ensuring that patients stay safe. Sometimes, they try
moving in and out of the wheelchairs before I have secured the
brakes. This tendency to try leaving the wheelchair before it is
locked creates a high potential for falls because most of the
patients are still recovering from anesthesia when they are coming
downstairs. Since I am responsible for injuries from falls when I am
operating the wheelchair, I must be assertive in communicating to
patients that I need them to wait for me to lock the wheelchair
before they can get up to prevent bodily harm. I get satisfaction
from making patients more comfortable while they are in the hospital
because typically, going to the hospital is an unpleasant, painful
experience. I have learned that I need to be intentional about
connecting with patients and ensuring that their needs are met.
Becoming distracted by other demands is too easy, but staying
organized and having priorities keeps the needs of patients from
being forgotten. While I seek to make patients comfortable, I also
need to keep them safe.

To
be forward looking is seeking people and experiences that develop
skills for future careers and looking for soft skills I need to
develop outside of the classroom as a pharmacy student. Pharmacists
commonly work in hospitals; by volunteering at the hospital, I can be
better at communicating with patients about their needs and how I can
meet their needs. In high school, I job shadowed a local pharmacist
and eventually got a job in her pharmacy, making me more familiar
with common drugs. At college, I am involved in the student chapter
of the American Pharmacist Association, providing me with education,
networking, and service opportunities. Reducing unnecessary stress
during hospital visits is my goal when I volunteer at the hospital.
Patients and families can focus more on healing when they know that
people in the hospital care about them. I believe my actions will
make a difference because it is extremely common for patients to
complain that they have dry or sore throats after procedures.
Offering some ice water reduces the discomfort and lets patients
focus on recovery. After ten years, hopefully patients remember being
less overwhelmed. In my volunteer work, I remember I may wait to see
the difference I made.