Name: Chinelle Mattis
From: Edmonton, Alberta
Grade: 12
School: Centre High
Votes: 1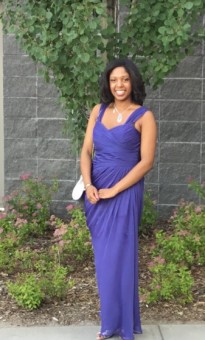 The
Writing Wave is a blog I created as a safe space for writers to
share creative literary work. Writers can feel fearless sharing
poems, short stories or other written works for the rest of the
writing community's feedback. Student writers can also find
educational writing tips or career advice amongst my blog posts.
I
started The Writing Wave two years ago, when harsh criticisms
caused many students, including myself, to feel self-conscious about
sharing our passion for literature. This started when I was switched
into a new English class along with other classmates who loved
literature. Unfortunately, our enthusiasm was met by new peers with
highly judgemental comments. I realized an anonymous method of
sharing writing and getting constructive feedback was needed to
improve our confidence and skills. Consequently, I built a community
around these issues to benefit not only myself but other developing
writers with similar needs.
The
Writing Wave is now an open-minded, positive community of over
100 writers worldwide. It has a forum for writers to share their work
at any time and I also contribute monthly literary posts. Since its
inception, I've volunteered approximately 250 hours into this
writing community.
Previously
my responsibilities on The Writing Wave have become
complicated. During exam season, excessive homework interfered with
my ability to maintain my posting frequency. This would caused
members to unfollow which left the community with less sources for
writing feedback. At times, I'd have to scramble to keep the
community together while sacrificing my school grades.
Despite
difficulties, it's rewarding to know that my blog helps other writers
to grow confidence and rise above toxic environments like my
classroom. The impact of The Writing Wave reaches past
constricting classroom walls into every single continent in the
world. Some of my followers from Asia even credit The Writing Wave
for aiding and inspiring the improvement of their written English
works. Through The Writing Wave, I've learned that the
smallest idea can end up changing people's lives…if only we
remain dedicated to our initiatives.
I've
also realized that despite my writing passion, my future career will
likely be science related. The Writing Wave will offer a way
to express my literary passions while surrounded by science.
Looking
forward, I believe The Writing Wave will continue to uplift
and prepare all of its followers for their future. Aspiring
publishers will need the online skills practiced on my blog to tackle
the growing trend of E-books and online publishing. Furthermore, one
of my blog's segments has interviews with professionals in any
career from biotechnology to technical writing. This will inform the
future career decisions of my young followers.
If
a simple blog can penetrate geographical borders to overcome critics
and make voices be heard, then everyday citizens can also achieve
this effect in greater endeavors. The Writing Wave has already
made a difference by ingraining this inspirational outlook within all
of its members. Therefore, The Writing Wave will be a beacon
of empowerment for years to come.