Name: Lauren DeVine
From: Cordova, Tennessee
Grade: Senior
School: Saint Benedict at Auburndale
Votes: 0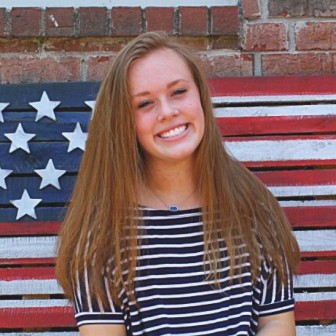 Lauren
DeVine
Youth
Forward Scholarship

Holding a "Special" Place in My Heart
The summer before my freshman year, I decided that I wanted to be a camp
counselor. I looked online for summer camps in my area, and I
stumbled across Camp Fly High. This camp was different from the other
ones, though. This camp took place at a special education school in
my city. I had never really met anyone with special needs before, but
I decided to try it anyway despite my lack of information.
For at least two weeks a summer, I have been blessed to work with these
kids. They changed my life. All my kids no matter the age taught me
patience, understanding, and unconditional love. I would get to camp
at 8 am every morning and stay until 3 or 4 in the afternoon. My
biggest challenge as a volunteer was learning how to deal with melt
downs. It hurt me to watch them get upset, but over time I have
learned how to take charge of the situation. The more positive parts
of my volunteering were playing games, going on field trips, and
making new friendships. This organization has become one of the
biggest parts of my life over the past four years. It has shown me
what I love to do. It has taken me to my present internship at that
same school where I get to see my kids every day. It has prepared me
for my future by giving me the chance to discover what I want to do.
I will go to college and major in exercise science, and later become
an occupational therapist working in a special needs school. My
biggest reward so far has been teaching one of my students now, Liam,
how to introduce himself. He was mostly non-verbal when I first
started working with him, but now we have full conversations. I know
he will use this tool for the rest of his life, and I am so honored
to say that I taught him that.
I see my volunteering as "forward-looking" because I have kept the
cycle going. My friends have come to volunteer with me, and some feel
like they have found their vocation because of it. I have continued
to keep the cycle going by starting a Best Buddies club at my school,
and I plan to do that at wherever I attend college as well. I want to
share the love that these kids have shown me to everyone I know. They
genuinely hold my heart. I hope to raise awareness of how the R word
is derogatory and how it can hurt a person's feelings. I hope to
show people that people with disabilities are just as capable as
anyone else. Everyone has their weaknesses as well as their
strengths. I know that my volunteer activities have made a difference
because through the club, we have already welcomed 50 more volunteers
to the special needs community in Memphis. This organization can only
grow from this point forward. I have watched people's lives be
changed because of how beautiful these people are. My own life has
been changed.