Name: Katelin Kim
From: Middleton, MA
Grade: 12
School: Masconomet Regional High School
Votes: 0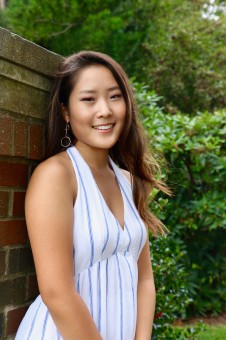 On
a regular visit to Boston, it becomes a heart wrenching "tradition"
to see homeless people burying their numb skin underneath ripped
blankets in the freezing cold. Walking by, I cannot help but be
curious about their story. How did they get there? It wasn't until
I watched the news one Sunday evening that I learned of the hidden
stories of the very people who fought for our country.
Many veterans who have served for our country risking their lives,
ironically, return and suffer from mental illness, alcohol or
substance abuse, or co-occurring disorders.
They have a difficult time getting paced back into society. After
being informed by this, I went into immediate action with the Red
Cross Club at my school. I have been a member since my sophomore year
and became president my senior year.
I
introduced a project called Totes of Hope to the club and explained
to them why the initiative of this project was important, and they
all agreed in unison that it was a good idea. So, we launched the
schoolwide project called Totes of Hope during the month of November
where we collected hygiene items for veterans in need. Ideally, I
wanted to be hands-on and help out in a more personal way, however, I
realized that what they needed most were small items that I took
advantage of on a daily basis. Toothbrushes, toothpaste, shampoo, and
soap are all necessary for my health, yet, were things veterans were
lacking.
After
meetings of team effort, we eventually had flyers posted all around
the school and a video promoting the project on our school morning
announcements. Most importantly, we had many members of the club
visit each homeroom in the school at 7:30 in the morning and inform
them about the cause and encouraged them to donate as much as
possible. After weeks of hard work, we had a total of 450 items
donated by our very own peers. On Veterans Day, I visited the
Veterans Outreach Center in Haverhill and personally dropped off all
the items which were all wrapped in boxes.
The
Totes of Hope project was one that required initiation and
organization, two key aspects of volunteering. Planning out our
meetings and communicating with the outside American Red Cross
workers was crucial. The most important thing in being an exemplary
volunteer is being a leader, and I was able to learn that through
this project. Although as president of the Red Cross Club it is
necessary that I am a leader, without the other members in the club
acting as leaders as well, the project would not have been as
successful. As mentioned before, I do wish that I had a bigger part
in contributing for the cause rather than just helping in getting
people to donate. However, I realized that small acts like these are
as important as any other form of volunteering because, in one way or
another, it helps a person in need. Having this habit as students is
a good start to becoming a valuable part of the volunteerism
movement.
It
is extremely rewarding knowing that these donations would be helping
someone in a similar situation as the ones I saw on the streets of
Boston. What surprised me was that because of my actions, my fellow
peers learned about an important cause and cared enough to donate. By
using my platform, the Red Cross Club, I am able to cultivate my own
passion, along with the those of a whole group of students, in
helping others. Finding a personal connection to the projects we
purse allows us to see the true meaning behind each of our actions,
whether big or small. I will continue to volunteer in and out of Red
Cross Club as to help out people in my community and people
nationwide who all have a story. These 'forward looking'
activities will help change people's stories in a positive way as
to make the world a better place.