Name: Kristen Green
From: Bremen, Georgia
Votes: 57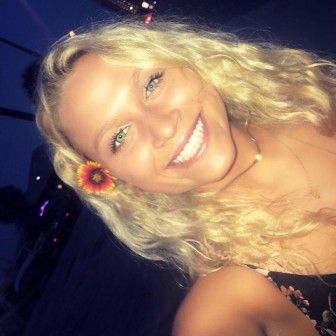 How Impacting Others, Impacted Me
My parents encouraged me to begin volunteering at a young age, so I quickly
learned the value of serving others and the positive impact it has on
the lives I touched. I decided to put in more hours volunteering
when I tore both of my ACL's and couldn't play softball. I wanted
to do something positive with all the free time I had and help
others. I am always happier when I am serving others and putting
their needs ahead of my own. Volunteering motivated me and helped me
to stay active and not feel sorry for myself because I was busy
helping others. Volunteering gave me a sense of purpose during a time
when I felt like I didn't have one.
It was easy for me to find a few hours every week to give back to causes in my
community that I enjoyed and felt were important. I began logging my
volunteer hours as I started high school. My goal was to complete 300
hours by the time of graduation. I have already surpassed this goal.
Accomplishing this goal was not hard for me because I was motivated
and once I began helping others I didn't want to stop. My volunteer
activities were not just hours I accumulated as part of a graduation
goal that I set for myself. As I impacted others by giving my time
and love, the act of volunteering impacted me.
I will never forget visiting a local nursing home on Valentine's Day to take the
elderly handmade cards that I made for them. Seeing the happiness on
the resident's faces during my visit made me happy. I believe that
I receive more out of the act of volunteering than what I have given
to anyone I have touched while serving. It makes my heart happy to
know that I am helping people and doing things that make a difference
in their lives. While my main motivation wasn't to feel good about
myself, it certainly had that effect on me.
There are many organizations in my community that need assistance so I have spent
time volunteering at a wide variety of places. I helped serve at a
community Thanksgiving dinner at a local church. Many people came
together to cook and serve a meal for people in our community that
were less fortunate or just didn't have anyone to spend their
Thanksgiving meal with. It was humbling for me to see how many people
came together to help and how thankful the recipients were for
something as simple as a meal.
I spent a summer volunteering at a local hospital system working in the community
benefits department. I've spent many hours mentoring local youth
including volunteering at a local daycare, assisting the elderly and
feeding the hungry. I have served as a mentor and role model to
young athletes and even to my own teammates when I was unable to play
due to two devastating ACL injuries. I never missed a game or
practice during the two years I was unable to play. Being present,
encouraging and leading my team has always been important to me.
I have gained lifelong skills through my volunteer work. I have gained confidence
by trying new things and knowing that I am making a difference in my
community. I have met people that I would otherwise not had the
opportunity to meet if I didn't spend time volunteering. I have
become a valuable part of my community while learning new skills.
Volunteering has made me feel like I am a part of something bigger
than myself, part of a team. Volunteering is about people – people
who are working with other people to help people in some way or
another. That is what is at the core of why volunteering is needed
and will always exist.
The most difficult part of volunteering for me was when I volunteered at our
local hospital system right after having my first ACL surgery. Being
accepted into the hospital volunteer program was an honor and I
wanted to work, but it was difficult when I was on crutches and still
in pain. This taught me a valuable lesson. I quickly learned a life
lesson that many adults in the workforce have to face every day when
they go to work when they are not feeling their best in order to keep
their job and take care of their family.

I encourage all young adults to give back even if it's something as
small as helping at a community Thanksgiving dinner. The benefits
they will receive are indescribable. I have learned valuable job
skills that gave me experience for my future career. Although I
earned no money, I acquired a wealth of knowledge, skills, and
experience. It is refreshing to volunteer and as you make someone
else feel better, you automatically feel better as well. Volunteering
is beneficial to all parties. Volunteering is crucial because it's
important to be humble and give back to your community.
As I go to college next year, I will be a part of as many service projects as
possible. I think it's important to give and to continue giving to
your community throughout your life. It is a circle that needs to
continue because we would be in a sad state if there were not people
who wanted to give back to their communities by serving others.